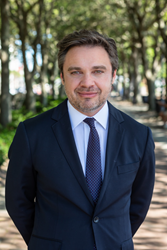 He is a pioneer in the REALTOR® community, always working to improve our profession in everything that he does
CHARLESTON, S.C. (PRWEB) February 13, 2021
Tyler was instrumental in bringing the CTAR Global Business Chapter to Charleston. The program focuses on education to expand core real estate skills and knowledge needed to meet the unique needs of foreign clients. Since its inception in 2019, the chapter works to build awareness of culturally appropriate business practices and provides networking opportunities with other international business professionals and organizations.
"Charleston is truly an international destination. As REALTORS®, it is important that we recognize and appreciate different cultural nuances to facilitate the best possible transaction for our clients," said Tyler. "I have valued being a part of CTAR's Global Business Chapter, and I am honored to have been recognized as REALTOR® of the Year."
A lifelong resident of the Lowcountry, Tyler has served in local, state and national leadership positions for South Carolina REALTORS®, Charleston Trident Association of REALTORS® and the National Association of REALTORS®. He most recently served as the 2020 President of South Carolina REALTORS®, the largest professional organization in the state with over 20,000 members. Over the course of his career, Owen has received numerous awards including REALTOR® of Distinction, REALTOR® of the Year (Charleston Trident Association of REALTORS®), C. Dan Joyner Community Service Award (South Carolina REALTORS®), Forty Under 40 (Charleston Regional Business Journal) and 50 Most Influential (Charleston Business Magazine).
"We are incredibly proud of Owen; he truly deserves this honor," said Robertson Allen and Jimmy Dye, founding partners of The Cassina Group. "He is a pioneer in the REALTOR® community, always working to improve our profession in everything that he does."
For more information on The Cassina Group, please visit http://www.TheCassinaGroup.com.
About The Cassina Group
The Cassina Group is a boutique real estate brokerage with offices in Mount Pleasant, SC and Charleston, SC. The firm is managed by Owen Tyler, partner and managing broker, and founding partners Jimmy Dye and Robertson Allen. Recent awards include top honors from Charleston Magazine, Inc. 5000 and SC Biz News. For more information, visit http://www.TheCassinaGroup.com or call 843-628-0008.
###