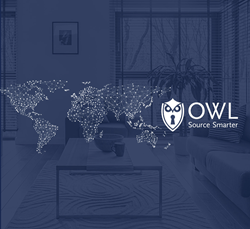 We are extremely happy to announce the expansion of our OWL technology for the temporary housing industry worldwide. It offers direct, quick, and effortless connections to hundreds of suppliers around the world, said Alex Shahabe, President
SAN DIEGO (PRWEB) September 21, 2021
OWL, a collaborative marketplace for the sourcing and procurement of temporary housing, is pleased to announce the upgrade of its current technology to offer its services globally. With more than 14,000 requests sourced in just over a year, OWL now meets the requirements of buyers and suppliers in Europe, the Middle East, Africa (EMEA), Asia-Pacific Countries (APAC), Latin America, Canada, and the United States, with new locations added daily.
Initially, OWL provided its sourcing and procurement marketplace for the 50 U.S. States and nine Canadian Provinces. However, continued demand for the breakthrough automated technology in the industry drove the OWL executive team to take on the daunting challenge of providing global coverage for relocation management companies, suppliers, and serviced apartments providers.
"We are extremely happy to announce the expansion of our OWL technology for the temporary housing industry worldwide. It offers direct, quick, and effortless connections to hundreds of suppliers around the world. Now, companies can both offer and provide global options for their clients," said Alex Shahabe, President of OWL. "Based on our current clients' experiences and the requirements of the international market, we worked very hard to adapt each detail for the global version of our technology. As a result, we are certain it will increase OWL members profitability and contribute even more to their growth and success."
The global upgrades made in this innovative marketplace focus on the temporary housing industry making it easy for international suppliers to communicate between foreign markets. OWL members now benefit from the marketplace's current connection features and a unique global user dashboard based on the web browser's location. In addition, OWL customizes each user's experience to the specified date format, time zone, miles/kilometers, and currency of the location.
According to AFAR, the world's largest travel media brand, companies are offering employees more opportunities to work remotely, largely due in part to the ripple effects of the pandemic. As a result, countries around the world are seeing an increase in digital nomads.
"OWL continues to be one of the mobility industries leading thought leaders providing innovative technology that responds to the mobility markets' changing needs," said Kim Krollman, EVP Strategic Solutions of OWL. "We invite temporary housing industry companies worldwide to join OWL and be a part of our marketplace. With OWL as your ally, you can easily connect with new business opportunities worldwide."
For more information and to get started on OWL, visit https://owlmarketplace.com or request more details at info@owlmarketplace.com.
About OWL
Founded in 2020 by Alex Shahabe, San Diego-headquartered OWL provides a marketplace for providers to both source and be sourced for long and short-term temporary housing. OWL launched to facilitate a new level of convenience by offering all temporary housing providers complimentary access to fill vacancies and bid on housing requests that best fit their companies' inventory style. For more information, visit https://owlmarketplace.com or email info@owlmarketplace.com.