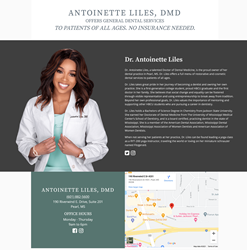 I am so excited to provide the superior, compassionate and high-quality dental care that patients deserve when they visit us in Pearl, Ms., says Dr. Antoinette Liles
PEARL, Miss. (PRWEB) March 15, 2021
Dr. Antoinette Liles is proud to announce the opening of her new family dental practice, located at 190 Riverwind E. Drive, Suite 201 in Pearl, MS. Following the practice motto of, "Where Art Meets Science," the practice provides the highest level of advanced oral care for beautiful, healthy smiles, using cutting-edge technology. The full menu of services at the practice range from general dentistry and restorative dental services to emergency care and sedation options. Adding to the excitement of the practice opening, Dr. Antoinette Liles and the new practice was featured on the Oprah Winfrey Network's newest docu-series "Belle Collective." Dr. Liles is one of the five principal cast members on the show. The "Belle Collective" series spotlighted and followed the personal and professional lives of Dr. Liles as she went through the journey of building and designing the facility.
From the moment patients walk through the dental practice's doors, they will feel welcome and at home, receiving personalized treatment plans and patient-centric care. Dental insurance is accepted, and payment options are available to meet all types of budget needs. In addition to seeing patients at the clinic location, the practice will also be providing dental care to underserved populations, college campuses and healthcare facilities in Mississippi, with a goal to give prospective patients a stable dental home.
"I am so excited to provide the superior, compassionate and high-quality dental care that patients deserve when they visit us in Pearl, Ms.," says Dr. Antoinette Liles
Patients can make an appointment by calling 601-882-5600. For more information, please visit http://www.AntoinetteLilesDMD.com.
More about Dr. Antoinette Liles:
Antoinette Liles, DMD, earned her dental degree from The University of Mississippi Medical Center's School of Dentistry. She is an active member of the American Dental Association, Mississippi Association of Women Dentists and American Association of Women Dentists. Dr. Liles attends several continuing education courses annually to ensure the best up-to-date services for her patients. She is committed to providing exceptional care and has the knowledge and expertise to help patients reach their dental health goals. Dr. Antoinette Liles and the entire team in Pearl, Ms. strive to build long-lasting relationships with patients and their families. For more information or to schedule an appointment, please visit http://www.AntoinetteLilesDMD.com.