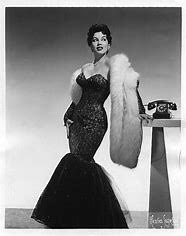 Finding my birth mother gave me the inspiration to create Dolores Del Raye Skincare.
ATLANTA (PRWEB) August 15, 2019
As one of Midtown Atlanta's most successful Estheticians for 25 years, Kent Thompson, owner of Mint Salon, has recently taken steps in fulfilling a life-long wish to discover his true roots. What started in 2014 as the first steps in finding his birth family has now transformed into inspiration for a new product line for his business.
Thompson explains: "In 2014 I took a DNA test with both 23 and Me and Ancestry, to find my birth family. In 2017, I located my Father's side. He was from a line with the surname Brumfield who, like the Hatfields of West Virginia, feuded with the McCoys."
Finding out more about his father's ancestry only fueled his eagerness to uncover whatever he could regarding his birth parents. In 2018, Thompson located his mother's side of the family. Dolores Del Raye, a well-known burlesque dancer from the 1950s, was discovered to be Thompson's biological birth mother. Finally having this closure in his life and fulfilling his dream of learning more about his roots, Thompson moved forward with this newfound knowledge and used it to bring to fruition another long-time dream: creating a line of skincare products for his business.
As a tribute to his mother, Thompson is creating a new line of merchandise appropriately named Dolores Del Raye Skincare. The line will focus on natural beauty using only natural ingredients. It will feature a number of skin fresheners, geared toward balancing and firming the user's skin. This product line will also showcase two skin detoxifying and tightening masks. The newest item that Thompson is most excited about is an amazingly gentle, skin softening exfoliant.
The first product scheduled to launch will be an aloe-based calming spray for post skin treatment and daily use, and will be released at Mint Salon as early as September.
Stay tuned as more of the story unfolds about Thompson's initial search through his family tree.
"I have learned some incredible things about the lives of my birth family," Thompson expresses. "Finding my birth mother gave me the inspiration to create Dolores Del Raye Skincare. This product line would not be possible without the hard work taken to find out more about who my family really is. I'm very excited to be sharing this journey."
The upcoming product line will be available at Mint Salon's location - 985 Monroe Dr. NEW, Atlanta GA 30308 - and through their online store at https://mintsalon.net/
About Mint Salon
As Midtown Atlanta's favorite spot for hair-care services and professional waxing and facials, Mint Salon is continuing to gain popularity as they stay up-to-date with industry knowledge and explore new ways to further gain client satisfaction. The team's dependable stylists are known for their ability to transform any hair-disaster into movie-star-level volume and smoothness that lasts for months after the initial appointment. Customers both old and new can enjoy friendly stylists and professional service at this local hair salon.
To find out more about Mint Salon and their services, visit: https://mintsalon.net/