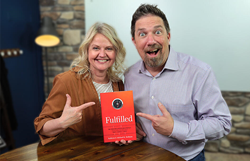 If you want to build a successful company, keep your values, and enjoy what you do, then read this book. - Ryan Deiss, CEO and Co-Founder, Digital Marketer
CHICO, Calif. (PRWEB) May 06, 2020
Kathryn and Michael K. Redman, business owners at Half a Bubble Out Marketing and Business Consulting Firm, and founders of HaBO Village Membership site for business leaders, released their new book Fulfilled-The Passion & Provision Strategy for Building a Business with Profit, Purpose and Legacy.
Fulfilled launched on Tuesday, May 5, 2020. The Kindle version of the book will be available on Amazon from its full list price down to $0.99 for one week only beginning on Tuesday, May 5. Fulfilled is currently ranked #1 in numerous Amazon categories, including Organizational Change, Entrepreneurship Management and Organizational Learning.
After years of research and hone their strategies, Kathryn and Michael K. Redman have developed a framework that offers business leaders the dream with the means of implementation. There are no magic pills or silver bullets in Fulfilled - just the promise of transformation with hard work and patience.
Anyone who buys the $0.99 Kindle version of the book on Amazon will have access to receive over $200 worth of free bonuses.
Click here to buy the book on Amazon
Praise for Fulfilled
"If you want to build a successful company, keep your values, and enjoy what you do, then read this book. Michael and Kathryn Redman are my friends and they have done all three well. Heck, they've even done it while being married and still liking each other! Listen to them and follow the Passion & Provision strategy, and you'll discover how to build and run a business you didn't know was possible." - Ryan Deiss, CEO and Co-Founder, DigitalMarketer
"My company and the Redman's company have partnered for over 15 years through a lot of changing seasons. I have found them to be the 'Dynamic Duo' (to borrow a phrase). Their insight into business and marketing strategies are always on target and they stay up on the current thinking and trends for today's changing world." - Philip Larios, President/CEO, Hignell Incorporated
"Kathryn and Michael Redman offer entrepreneurs both a gripping narrative of the ups and downs of running a small business, along with a compelling, step-by-step framework for building a business with both profit AND purpose - all told through the unique, dual perspective of what it's like to be two spouses working in the same business together. I thoroughly enjoyed reading Fulfilled and highly recommend it." - Ryan Levesque, CEO of The ASK Method® Company and author of the #1 National Bestselling books, ASK and CHOOSE
For more information, contact Half a Bubble Out (530) 345-8295 or visit http://www.fulfilledthebook.com.
About the Authors
Kathryn and Michael K. Redman are sweethearts, best friends, and the husband-and-wife team behind Half a Bubble Out (HaBO), a marketing and business consulting firm. They're also founders of HaBO Village, a membership website which helps leaders build Passion & Provision companies, full of profit, purpose, and legacy.
For more than 17 years, they have helped business leaders across the world grow their companies through marketing, business coaching, and leadership development. Kathryn and Michael have both taught at the university level and are frequent guest speakers.
They currently reside in their hometown of Chico, California, where they love going to work every day.