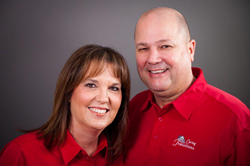 We are successful because we focus on serving our local community and we work very hard to satisfy each client's specific needs. We are looking forward to serving many local seniors and continuing to grow the business moving forward. - Craig Edwards
ROCKWALL, Texas (PRWEB) March 04, 2020
Caring Transitions is pleased to announce that Craig and Amy Edwards, the local owners of Caring Transitions of Rockwall, have been recognized with the company's national Rookie of the Year Award. The award was presented at the company's national conference on February 4, 2020.
Caring Transitions' specially-trained professionals handle decluttering, organizing, packing, moving, resettling, in-home estate sales and online auctions, estate clearing and preparing homes for market. This senior-focused relocation and estate-clearing company serves Rockwall, Rowlett, Heath, Sachse, Wylie and the surrounding communities.
"Craig and Amy personify what it means to get off to a fast start. They applied their passion for seniors with their previous business experience and hit the ground running and they dispelled the business myth that it takes years of experience to be successful. We are proud to have them as franchisees and I'm excited to see them continue to grow their business," Caring Transitions President Ray Fabik said.
Craig and Amy opened their Caring Transitions franchise in March of 2018 and, in 2019, earned the company's Rising Star Award. They are both from Texas – Craig grew up in Garland before moving to Rowlett almost 25 years ago. Amy grew up in the Dallas area and graduated from the University of Texas. Amy worked as an elementary school teacher and later stayed home to raise the couple's four kids. All of them went to school and played youth sports in Rowlett. Craig previously built his career in the wholesale food business.
"We are honored to be selected for this award. We are thankful for our great team, the Caring Transitions' business coaches and our local referral partners. I would especially like to thank Jeff Orzechowski at Caring Transitions corporate office for great guidance during our first year," Craig said.
Caring Transitions' services are perfect for seniors moving in with family or into a safer living situation, as well as busy families and people clearing out the home of a loved one who has passed. All of Caring Transitions' services are customizable, so clients only pay for the services they need – whether that means managing the entire move and estate-clearing or just getting someone resettled into their new place.
"We are successful because we focus on serving our local community and we work very hard to satisfy each client's specific needs. We are looking forward to serving many local seniors and continuing to grow the business moving forward," Craig said. "We are also planning to begin using CTBids, Caring Transitions' online auction platform, to expand our business into online auctions."
Caring Transitions is bonded, insured and their W2 employees have been background checked. For additional information, call (972)846-4839, email CEdwards@CaringTransitions.com or visit http://www.CaringTransitionsRockwall.com.