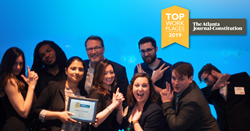 "Our goal is to make every decision with our clients and employees in mind. Every day, we strive to develop a win-win environment for all involved. We want people to work in a place where they can succeed, and our clients can benefit." - Chandler McCormack
ATLANTA (PRWEB) March 06, 2019
OxBlue, a leading provider of construction time-lapse cameras, recognized as one of the Top 150 Workplaces in Atlanta by the Atlanta Journal-Constitution (AJC) and Energage (formerly WorkplaceDynamics) for the second year in a row, coming in at number 37.
The Top 150 Workplaces in Atlanta consists of 25 large, 50 midsize, and 75 small companies, and OxBlue is honored to be named as the 14th top place to work in the small business category.
Energage's survey focuses on organization health, and over 101,986 Metro-Atlanta participated in the no-cost program. The participants answer questions on several culture-related categories, including alignment with their company, effectiveness, and connection.
OxBlue employees' responses indicate a high level of engagement and fulfillment. The survey also reveals that job satisfaction has grown since 2017 and that employees feel a deeper overall connection to OxBlue.
Of the company's workplace culture, CEO Chandler McCormack said, "Our goal is to make every decision with our clients and employees in mind. Every day, we strive to develop a win-win environment for all involved. We want people to work in a place where they can succeed, and our clients can benefit."
OxBlue's dedication to its employees through communication and appreciation creates a positive work environment and helps the company easily recognize areas for improvement. Employees are invested in the future and feel fulfilled in their roles. As a result, everyone is focused on how they can continuously improve OxBlue's service to their clients.
About OxBlue
OxBlue is a leading construction time-lapse camera service provider, serving clients globally since 2001. OxBlue's high-resolution images, high-definition time-lapse videos, and intuitive technologies connect everyone to the job site, as well as make it easy to monitor, document, and market your project. OxBlue emphasizes client services and continuous improvement, as well as holds multiple awards for technology, innovation, and workplace culture.