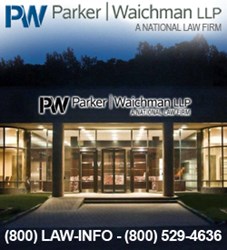 We support the FDA in this decision to show its willingness to use every power at its disposal to protect the American public from an allegedly dangerous supplement.
New York, New York (PRWEB) November 13, 2013
Parker Waichman LLP, a national law firm dedicated to protecting the rights of victims injured by defective drugs and medical devices, notes that Dallas-based USPlabs LLC is recalling certain OxyElite Pro dietary supplement products after receiving a letter from the U.S. Food and Drug Administration (FDA) stating that the products had been linked to liver illnesses and that there is a "reasonable probability" that the products were adulterated, according to a Nov. 10, 2013, press release issued by the FDA. The letter also notified USPlabs that if it did not initiate a voluntary recall, the FDA could by law order the company to immediately stop distributing the dietary supplements and immediately notify other parties to stop distributing the products, the press release added, noting that this marked only the second time that the FDA has exercised its recall authority under the FDA Food Safety Modernization Act (FSMA). The act was signed into law on Jan. 4, 2011, according to the FDA's Food Guidance & Regulation webpage, last updated on Nov. 12.
"The FDA took this step to ensure that adulterated products do not reach the American public," said Gary P. Falkowitz, a Managing Attorney at Parker Waichman LLP. "We support the FDA in this decision to show its willingness to use every power at its disposal to protect the American public from an allegedly dangerous supplement."
According to the FDA press release, products that are part of this recall are OxyElite Pro Super Thermo capsules, OxyElite Pro Ultra-Intense Thermo capsules and OxyElite Pro Super Thermo Powder (available in the flavors fruit punch, blue raspberry, grape bubblegum and green apple). A full list of the products and their UPC codes can be found on the related page on the FDA website.
As further noted in its press release, the FDA notified USPlabs about findings indicating a link between the use of OxyElite Pro products and a number of liver illnesses reported in Hawaii. The FDA release also noted that cases of liver damage following the use of these OxyElite Pro products had also been found in a number of other states.
It added that, in a review of 46 medical records submitted to the FDA by the Hawaii Department of Health, 27 patients, or 58 percent, had taken a dietary supplement named OxyElite Pro before they became ill; 17 of the 27 patients (or 63 percent) reported that OxyElite Pro was the only dietary supplement that they were taking. One death has occurred among these patients, one patient has undergone a liver transplant, and others require transplants but are waiting for the organs to become available, the press release noted.
In a warning letter issued to USPlabs LLC on Oct. 11, 2013, the FDA informed the company that OxyElite Pro and another of its dietary supplements, called VERSA-1, had been deemed by the agency as "adulterated." The letter pointed out that the products in question included aegeline, a new dietary ingredient that "lacks a history of use or other evidence of safety." The letter also stated that failure to immediately cease distribution of all dietary supplements containing aegeline may result in enforcement action.
If you or someone you know has taken OxyElite Pro dietary supplement products, you may have valuable legal rights. To discuss your case with one of our lawyers, please view our website or call 1-800-LAW-INFO (1-800-529-4636).
Contact:
Parker Waichman LLP
Gary P. Falkowitz, Managing Attorney
1+ (800) LAW-INFO
1+ (800) 529-4636
http://www.yourlawyer.com