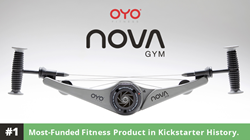 These stunning results of our Kickstarter campaign show the consumer is looking for better fitness solutions, and I think we proved we have them.
KANSAS CITY, Mo. (PRWEB) May 11, 2020
The OYO NOVA Gym shattered records within two weeks to become the most funded fitness product in Kickstarter history, raising more than $1,750,000 to date. With more than 11,000 backers, more people have backed this campaign than any other fitness crowdfunding campaign – and the campaign still has a month to go.
After launching on April 28, the NOVA Gym blew past its funding goal of $30,000 in less than an hour and hasn't looked back. Building upon the success of the original OYO Personal Gym, the NOVA Gym offers higher resistance with the same patented SpiraFlex resistance technology used by NASA astronauts for almost 10 years in space. Now people can benefit from strength training anywhere with the option to add even more resistance.
"The OYO team has worked hard to develop fitness devices that fit in anyone's lifestyle," said Paul Francis, founder, inventor and CEO of OYO Fitness. "These stunning results of our Kickstarter campaign show the consumer is looking for better fitness solutions, and I think we proved we have them."
The key to the NOVA Gym is SpiraFlex resistance technology. It was originally developed by Francis for NASA astronauts to counteract muscle loss during long expeditions on the International Space Station.
"Think about how much your body would atrophy if you laid in bed for six months, that is what happens to astronauts if we don't strength train in space," said former NASA Commander Leroy Chiao, PhD. "After six months in space using SpiraFlex technology, I returned stronger than before I left."
The NOVA Gym duplicates the benefits of weight training, with up to 40 pounds of SpiraFlex resistance, in all planes of movement. It's a full gym that fits in the hands, providing more than 100 exercises for the chest, back, arms, core and legs - yet it weighs less than 2.5 pounds and folds up to go anywhere. Patented DoubleFlex activation provides resistance to opposing muscle groups within the same movement, building a balanced body in less time.
In addition to the NOVA Gym, all backers of the campaign will receive "Stretch Goals" that include: an invitation to train with OYO Fitness Director Nick Bolton, a breathable mesh carrying bag, a printed exercise deck with instructions on how to perform each exercise,an exercise towel and NOVA Gym color options. Future Stretch Goals that backers can achieve include: 2-year warranty, a workout poster featuring top exercises, a workout headband and two months of 2 premium online workout programs.
The NOVA Gym is now available to pre-order, at an Early Bird discount and free US shipping at pr.go2.fund/novagym.
About OYO Fitness
OYO Fitness founder Paul Francis first developed SpiraFlex resistance technology for the NASA mission critical program to counteract astronaut bone and muscle loss caused by long-term zero gravity. During 10 years, over 50 International Space Station crew members have kept in shape with the SpiraFlex powered iRED invented by Francis. SpiraFlex was inducted into the Space Technology Hall of Fame.
Next, he licensed SpiraFlex technology to Nautilus Inc. and helped develop the Bowflex Revolution home gym, which is one of the best-selling home gyms of all time.
Francis founded OYO Fitness to develop fitness solutions that can fit anyone's budget and lifestyle. OYO Fitness has become one of the fastest-growing brands in the health and fitness industry, with a deep pipeline of new products.
For more information visit http://www.OYOfitness.com.