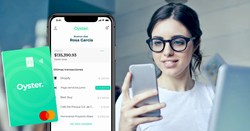 "In Mexico, it takes weeks or even months to get access to 'instant' credit for your business, if you are one of few (eight out of ten) Mexican SMBs to be approved for it. Until today." said Amanda Jacobson, Chief of Staff at Oyster.
SAN FRANCISCO and MEXICO CITY (PRWEB) March 24, 2021
Oyster Financial (oyster.io), a neobank and trusted financial partner for Mexican SMBs, today announced a first-time offering for a majority of small business owners in Mexico: access to affordable, instant credit and revolving credit lines. Unlike most large banks and financial institutions in Mexico that don't cater to SMBs, Oyster is squarely focused on helping its customers to more efficiently make or receive payments and optimize their operations via business-enablement tools.
Starting today, Oyster is making credit available to small businesses in the form of instant credit (between US$500-$1,500) after they open an Oyster business account, which is fast and free to sign up for. Actively engaged Oyster customers may be approved for revolving credit lines of up to US$5,000 within a few months of opening a new account.
"In Mexico, it takes weeks or even months to get access to 'instant' credit for your business, if you are one of few Mexican SMBs to be approved for it. And, unfortunately, eight out of ten small businesses had no access credit to help with the ebbs and flows of business, especially during the pandemic - until today," said Amanda Jacobson, Chief of Staff at Oyster.
A Cash-Flow Lifeline for Many Mexican SMBs
Small and medium-sized businesses (SMBs) are struggling to stay alive in the midst of an economic crisis in which Mexico's economy, the second-largest in Latin America after Brazil, has suffered the biggest annual contraction since the Great Depression in the 1930s. More than one million Mexican SMBs (about 25 percent) shut down their operations last year. As a result, there is broad concern about being able to create new jobs and drive GDP growth in Mexico.
Because Mexico's credit-reporting infrastructure is still so nascent and the country has experienced a relatively high prevalence of money laundering and other financial crimes, there is a tremendous amount of documentation and time commitment involved in opening a business bank account. And, applying for credit, is an entirely different and lengthy process.
"Think of it as having to stand in line at the DMV multiple times for each step in every process: to open a business account, to apply for a credit line or a loan, or to request a credit card," said David Lin, Chief Credit Officer at Oyster. "And, if you're one of the lucky few to get credit for your small business in Mexico, you're likely to pay 2-3 times more for that compared to the U.S."
Future Roadmap and SMB Customer Benefits
Recently, new laws have been introduced to address the widespread lack of financial inclusion in Mexico, including Mexico's landmark fintech law enacted in March 2018 that paved the way for open banking in Latin America this year and helped spur a surge in fintech startups after it passed. At the end of 2016, Mexico enacted a much faster way for individuals to start their own companies via a new business entity for corporations called a Simple Stock Corporation or SAS.
"Now, Oyster is the only neobank in Mexico, Latin America's second-largest economy, to provide fast access to credit to small businesses that are the lifeblood of new jobs' creation for about 95 percent of private-sector jobs in the region," said Vilash Poovala, Oyster co-founder and CEO. "In the months ahead, we will be rolling out more ways for our customers to interact with all sorts of payment systems, speed up access and better understand their revenue flow."
For example, later this year, Oyster plans to add a new capability for businesses to deposit cash into their accounts at many popular convenience stores such as 7-Eleven, CCK, Farmacias Benavides, Farmacias del Ahorro and Waldos. A large majority of Mexicans still prefer to pay for their purchases in cash. Also launching later this year: a new system for Oyster customers to send an email link so their customers can more quickly and easily pay them.
"In the months ahead, Oyster is poised to quickly roll out new and innovative ways to help SMB owners increase the overall health and profitability of their businesses," said Poovala. "Our vision at Oyster is to become a longtime, trusted financial partner for SMB owners that want to use modern technology to run their businesses from anywhere in the world. For example, unlike many Mexican banks that charge for night time or weekend transactions, Oyster customers may pay vendors, employees online and transfer funds 24/7 for no cost."
To learn more about Oyster's new credit offerings for SMBs, visit: http://www.cortinasarriba.mx
About Oyster Financial:
Oyster is a global fintech company that is creating a new financial system for entrepreneurs.
The neobank, co-located in Mexico City and San Francisco, has developed its own core banking platform for small to medium-sized businesses in Mexico to quickly attain a business banking account and debit card within days, not months or years. Its vision is to continue creating and rolling out new financial services and products for SMBs that increase revenues and ensure the health and well-being of businesses as they grow over time.
The company is backed by investors that include FinTech Collective, Kevin Efrusy, monashees, Redpoint eventures, S7 Ventures, SV LATAM Capital and Ulu Ventures with a total of US$14 million in seed funding as of September 2020.
For more information, please visit: https://oyster.io
###
Media Contact:
Chris Knight
U.S. PR director for Oyster Financial
Based in San Francisco, California
(415) 786-9226 c. (on WhatsApp)
chris@divinogroup.net