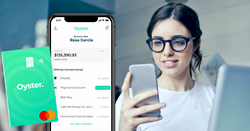 "We can open business banking accounts for all corporation types and do that for customers in 24-72 hours instead of waiting the typical 4-6 months, or even longer, to do so," said Vilash Poovala, co-founder and CEO of Oyster Financial.
MEXICO CITY and SAN FRANCISCO (PRWEB) September 10, 2020
Despite Mexico being the world's 11th largest economy and its 15th largest exporter, a vast majority of Mexican sole proprietors and small and medium-sized businesses (SMBs) are still unbanked or underbanked. Oyster Financial (oyster.io), a fintech startup co-founded and led by CEO Vilash Poovala — who co-founded Clip (formerly PayClip), a late-stage B2B electronic payments startup that's on a fast track to become Mexico's first unicorn — aims to change that stark reality for small to medium-sized businesses, startups and individual entrepreneurs.
Today, Oyster Financial — a neobank that has developed its own core banking technology platform — announced it has raised US$14 million in seed funding, the largest venture capital seed round in Latin America to date — per LAVCA, led by monashees in Brazil and SV Latam Capital in San Francisco. Other investors participating in the seed round include FJ Labs, Fintech Collective, Kevin Efrusy, Redpoint eventures, S7 Ventures and Ulu Ventures. The new funding will be used to accelerate Oyster's growth in Mexico, and make it fast and seamless for sole proprietors and small and medium-sized business owners to access financial services.
Traditional banks in Mexico have not focused on small business accounts and financial services in the past, which has created a barrier for entrepreneurism and jobs creation in the country. And, new jobs are badly needed. Last year, Mexico created the fewest jobs since the financial crisis caused by the Great Recession, and it's now impacted by the COVID-19 crisis. More than half of Mexico's GDP is generated by small and medium-sized businesses.
Recently, new laws have been introduced to address the widespread lack of financial inclusion in Mexico, including Mexico's landmark FinTech Law enacted in March 2018 that paved the way for open banking in Latin America this year and helped spur a surge in fintech startups after it passed. At the end of 2016, Mexico enacted a much faster way for individuals to start their own companies via a new business entity for corporations called a Simple Stock Corporation or SAS.
"The arrival of this new incorporation type called SAS was a huge opportunity for us because Mexico's banking system was not prepared to handle on-boarding them into the financial system," said Vilash Poovala, co-founder and CEO of Oyster Financial. "We can open business banking accounts for all corporation types and do that for customers in 24-72 hours instead of waiting the typical 4-6 months, or even longer, to do so. And, with the current pandemic, who wants to spend hours in line at a physical bank instead of signing up with us online so quickly."
In addition to fast access to setting up business accounts within three days, Oyster Financial provides debit cards for its customers, which can take more than a year or more to attain as a small business in Mexico. Oyster Financial's own high-quality customer support is available 24/7 and it does not charge customers a fee for bank transfers that typically cost 3-4 pesos each.
"Oyster is solving a key pain point and delivering something that's entirely new to Mexico: a fast track for entrepreneurs and small business owners to generate revenues and new jobs that the country's archaic banking system simply does not address today," said Consuelo Valverde, founder and managing partner at SV Latam Capital. "Oyster has the most experienced fintech team in Mexico, with a strong track record in startups and global tech companies, including Visa, PayPal, Clip, and Naspers/PayU. I met Vilash when he co-founded Clip, the first investment from our Fund 1. When he called me to share his vision about Oyster, it was a no brainer writing the first check."
"Latin America represents a huge growth opportunity for fintech entrepreneurs to introduce new technologies that traditional financial institutions in Mexico and beyond have not been able to keep pace with despite increasing demands for innovation," said Marcelo Lima, partner at monashees. "The Oyster team has a strong vision, deep tech expertise and quite a head start, as the only neobank for SMBs with its own robust BaaS platform, to deliver an outstanding experience for their customers within Mexico."
"Our vision is to be long-time partners to our small business customers. First, with fast, easy access to B2B financial services at a fair cost, and then through the creation and rollout of innovative services that drive more stickiness by helping small business owners maintain the health and wellness of their companies and provide them with ingenious new products that integrate with Oyster's core offerings and drive growth for their bottom lines," said Poovala.
About Oyster Financial:
Oyster is a global fintech company that is creating a new financial system for entrepreneurs.
The neobank, co-located in Mexico City and San Francisco, has developed its own core banking platform for small to medium-sized businesses in Mexico to quickly attain a business banking account and debit card within days, not months or even years. Its vision is to continue creating and rolling out new financial services and products for SMBs that increase revenues and ensure the health and well-being of businesses as they grow over time.
The company is backed by investors that include FinTech Collective, Kevin Efrusy, monashees, Redpoint eventures, S7 Ventures, SV LATAM Capital and Ulu Ventures with a total of US$14 million in seed funding as of September 2020.
For more information, please visit: https://oyster.io
About Monashees Capital:
monashees is a LatAm venture capital firm that invests in entrepreneurs committed to creating innovative solutions for a new world. We invest in the beginning stages and follow alongside the companies that are revolutionizing markets, creating value, and improving people's lives through technology, such as Addi, Fazenda Futuro, Frubana, Grupo Zap, Loft, Loggi, MadeiraMadeira, Neon, Neoway, Oyster Financial, Rappi and TrueHome.
About SV LATAM Capital:
SV LATAM Capital is the first early-stage VC firm born in Silicon Valley with a distinct focus on investing in Latin American entrepreneurs. Its investments produce great financial returns while being a growing force for good in the world. The San Francisco, Calif.-based firm invests in science and technology startups focused on solving difficult problems that promise to transform society at large, including innovations to ease climate change, promote sustainability, cure diseases and improve healthcare on a global scale. SV LATAM Capital partners with entrepreneurs who demonstrate grit and ambition to solve these important issues and problems.
Media Contact:
Chris Knight, U.S. PR director for Oyster Financial
Based in San Francisco, California
(415) 786-9226 c. (on WhatsApp)
chris@divinogroup.net