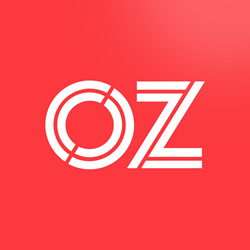 LONDON (PRWEB) March 10, 2021
Tech innovation company OZ has been named on Fast Company's prestigious annual list of the World's Most Innovative Companies for 2021.
The list honors companies that have not only found a way to be resilient in the past year, but have actively turned unprecedented challenges into impact-making processes. OZ did more than simply survive in 2020, it thrived - positively affecting a variety of industries, including sport, music and entertainment.
A company known for its innovative tech solutions, OZ made significant breakthroughs over the past 12 months, developing immersive engagement technology that is set to revolutionize the modern day fan experience. The company's mission is to close the gap between watching live events and physically being present at them. OZ makes live event experiences accessible for everyone, not only the minority who can attend in person. Through the expansion of the Metaverse, the 99% of viewers who are unable to attend events in person will have the opportunity to be a part of the atmosphere and engage with sports, music and entertainment like never before.
Gudjon Gudjonsson, OZ Founder and CEO, said, "We are delighted to be included in Fast Company's list of the World's Most Innovative Companies for 2021 alongside so many other outstanding innovators. We welcome the recognition of our work, and it comes at a time at which we are launching our next major fund-raise. During 2020 we strived to develop technology that can really change the game in a variety of sectors, enhancing the fan experience and closing the energy gap in an accessible way. Being named in this list not only highlights the progress we have made in the past year, but is also reflective of the hard work and commitment that has been put in since the company was founded. It's fine recognition of what we've achieved and provides great motivation to continue in our quest to energize the live event experience!"
Fast Company's editors and writers sought out the most groundbreaking businesses across the globe and industries. They also judged nominations received through their application process. The World's Most Innovative Companies is Fast Company's signature franchise and one of its most highly anticipated editorial efforts of the year. It provides both a snapshot and a road map for the future of innovation across the most dynamic sectors of the economy.
"In a year of unprecedented challenges, the companies on this list exhibit fearlessness, ingenuity, and creativity in the face of crisis," said Fast Company Deputy Editor David Lidsky, who oversaw the issue with Senior Editor Amy Farley.
With a number of events and announcements already on the horizon, 2021 is set to be a big year for OZ, as it launches its next major round of funding. OZ's inclusion on Fast Company's list of the World's Most Innovative Companies is another vital milestone for the business as it continues the push to revolutionize live events and the fan experience.
ENDS
About OZ
From next-generation productions to all-encompassing virtual worlds, OZ inspires with its passion for live events and, with its products and services, offers creatives the opportunity to take them to the next level. OZ has made a name for itself as an innovation driver in the area of ​​fan engagement. In cooperation with a number of creative studios, OZ brings viewers closer to the action than ever before and celebrates great success in the sports and music scene. OZ's headquarters are in London, with additional offices in Reykjavik, Shenzhen and India that bring together talent from all over the world. The company is supported by industry leaders, and can be found online at https://web.oz.com/.
About Fast Company
Fast Company is the only media brand fully dedicated to the vital intersection of business, innovation, and design, engaging the most influential leaders, companies, and thinkers on the future of business. The editor-in-chief is Stephanie Mehta. Headquartered in New York City, Fast Company is published by Mansueto Ventures LLC, along with our sister publication Inc., and can be found online at http://www.fastcompany.com.
For media information or interviews, please contact: oz@sqn.agency