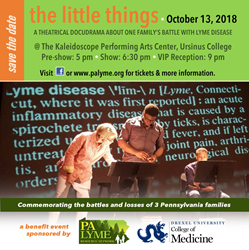 COLLEGEVILLE, Pa. (PRWEB) August 29, 2018
The PA Lyme Resource Network is proud to sponsor the Pennsylvania premier of "the little things," a theatrical docudrama telling the true story of the Elone family and the son they tragically lost to Lyme disease. Held at Ursinus College's Lenfest Theatre on Oct. 13, the evening will be a fundraiser for PA Lyme Resource Network; doors open at 5 p.m., "the little things" show begin at 6:30 p.m. and a VIP reception with the writer, director and cast will be held afterwards.
Written and directed by husband and wife duo Jeremy Davidson (Bull, Doubt, Madam Secretary, Pan Am, Salt) and Mary Stuart Masterson (Cake Eaters, Nine on Broadway, Benny and Joon, Fried Green Tomatoes), the live, multimedia theater piece is the cornerstone of an evening to raise funds for PA Lyme Resource Network and their awareness and prevention efforts regarding Lyme/tick-borne disease.
"the little things" is a dramatic reading telling the true and tragic story of the Elone family of Poughkeepsie, New York. In 2013, Joseph Elone began showing symptoms of Lyme disease after returning home from a summer camp. He later collapsed and died at his family's home. After mourning their loss, the Elone family partnered with Davidson and Masterson through their documentary theater company, Storyhorse, to share their experience.
"The little things" presentation will be followed by an expert panel discussion including Mary Beth Pfeiffer, author of Lyme: The First Epidemic Of Climate Change; Garth Ehrlich, Ph.D., of Drexel University College of Medicine; Marina Makous, MD, former professor at Columbia University's Lyme and Tick-borne Diseases Research Center; Martin Mulders, MD, local internist focusing on Chronic Illness and Integrative Medicine; Nicole Chinnici, MS, forensic scientist and Director of the Northeast Wildlife DNA Lab, the largest tick research center in Pennsylvania; and Julia Wagner, MBA, President of the PA Lyme Resource Network.
A special VIP reception with Davidson, Masterson, the cast, and panelists will follow the event.
The cost of the tickets raises funds for the PA Lyme Resource Network and its work towards the education and prevention of Lyme disease. To purchase tickets, click here.
About PA Lyme: PA Lyme Resource Network is a 501(c)(3) nonprofit whose mission is to reduce the suffering and impact of Lyme and related tick-borne diseases in Pennsylvania by providing physician and community outreach and education. As Pennsylvania continues to rank No. 1 in the United States with the number of reported cases of Lyme disease, the network aims to provide support, education, and advocacy in this dire time where awareness is essential.
# # #