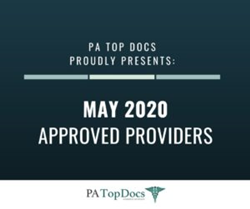 SCOTCH PLAINS, N.J. (PRWEB) June 17, 2020
PA Top Docs and PA Top Dentists are proud to feature the following May 2020 approved providers.
PA TOP DOCS INCLUDE:
ALLERGY, ASTHMA & IMMUNOLOGY

CARDIOLOGY

Dr. Venkatesh Nadar
Dr. Michael S. Nathanson
Dr. Gregg L. Neithardt
Dr. Prasant Pandey
Dr. Ted Parris
Dr. Elizabeth A. Piccione
Dr. Thomas B. Pinto
COLON & RECTAL SURGERY

ENT (OTOLARYNGOLOGY)

Dr. Ravindran Nadarajah
Dr. Gurston G. Nyquist
Dr. Michael A. Picariello
FAMILY PRACTICE

Dr. Nathan M. Moore
Dr. Bruce S. Morrison
Dr. Margaret S. Morton
Dr. Harry C. Myers
Dr. William P. Nasuti
Dr. Lawrence J. Nelson
Dr. Eric Newman
Dr. Beverly Niehls
Dr. Jennifer B. O'Connor
Dr. Chris M. O'Neil
Dr. Edmond Obeid
Dr. Rebecca J. Odorizzi
Dr. Emmanuel C. Okolo
Dr. Michele A. Oleksak
Dr. Cayce A. Onks
Dr. Glenn R. Ortley
Dr. John Pagnotto
Dr. Laura S. Pennings
GASTROENTEROLOGY

Dr. Louis F. Morsbach Jr.
Dr. Sudhir Narla
Dr. Rajesh R. Panchwagh
GENERAL SURGERY

Dr. Matthew Montgomery
Dr. Jan Anthony Olenginski
Dr. T. Kumar Pendurthi
Dr. Yeshwant G. Phadke
INTERNAL MEDICINE

Dr. Rajan Mulloth
Dr. Bichara C. Muvdi
Dr. Eileen P. Neely
Dr. Hang T. Nguyen
Dr. Cynthia M. Oleski
Dr. Michael C. Ong
Dr. Rashmikant Pandit
Dr. Maulikkumar Patel
Dr. Venkata R. Pericherla
NEPHROLOGY

Dr. Nimish S. Naik
Dr. Matthew G. Pesacreta
OB/GYN

Dr. Owen C. Montgomery
Dr. Lane A. Moskoff
Dr. Miles Murphy
Dr. Anand H. Noticewala
Dr. Melanie E. Ochalski
Dr. Joseph Orraca-Tetteh
Dr. Mary E. Pagan
Dr. Christine L. Phillips
ONCOLOGY / HEMATOLOGY

Dr. Kathryn A. Peroutka
Dr. Daniel Paul Petro
OPHTHALMOLOGY

Dr. Ananth V. Mudgil
Dr. Laura A. Pallan
Dr. Ravi D. Patel
Dr. Christopher Patitsas
ORTHOPEDIC SURGERY

Dr. Paul C. Neuman
Dr. Marcelino P. Oliveri
Dr. Meredith N. Osterman
Dr. A. Lee Osterman
Dr. Corey A. Pacek
Dr. Michael Pagnotto
Dr. Javad Parvizi
PEDIATRICS

Dr. David C. Mowery
Dr. Christine V. Nguyen
Dr. David J. Patton
Dr. Glenn H. Pisk
PLASTIC / COSMETIC SURGERY

Dr. Dennis T. Monteiro
Dr. Sameer Patel
Dr. Emily A. Peterson
Dr. John D. Potochny
RADIATION ONCOLOGY

VASCULAR SURGERY

----
About Us
PA Top Docs is a comprehensive, trusted and exclusive healthcare resource featuring reviewed and approved Top Doctors and Dentists in Pennsylvania online in an easy to use format. PA Top Docs only reviews and approves providers based on merit after they have been extensively vetted.
PA Top Docs is a division of USA Top Docs which allows patients to meet providers online before making their appointment.
For more information, e-mail us at info@PATopDocs.com and/or visit http://www.PATopDocs.com.