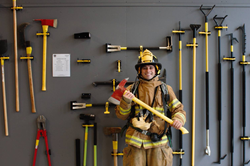 LANCASTER, N.Y. (PRWEB) October 15, 2018
Performance Advantage Company has contributed its mounting bracket kits and labels to the Multi Agency Academic Cooperative's Public Safety Training School.
To PAC's Greg Young, it's a win-win situation.
"We do this to help the MAAC train first responders, while the tools stay organized and in good repair," he said.
The MAAC Public Safety Training campus, located in Valparaiso, Ind., includes a 4-story (40-foot) search and rescue tower, 2-story live burn building, flashover unit, 2-story residential training structure, ventilation props, forcible entry props, drafting pond, vehicle extrication pad, one story multi-use structure, fire extinguisher and propane fire training areas, indoor apparatus training space and classrooms. All systems on campus are designed and manufactured to meet National Fire Protection Association requirements.
In 2016, the McMillan Family Foundation, Inc., in partnership with the Indiana District 1 Firefighter Training Council, established the MAAC Foundation in order to better serve all public safety professionals. The MAAC Foundation has been charged with developing training opportunities for firefighters, police officers, and EMS. This is being achieved through the offerings of combined classroom and practical application programs that provide advanced levels of critical thinking and functioning in preparedness and response. Moreover, MAAC is dedicated to supporting and meeting the needs of existing Indiana District 1 training sites.
Diverse class offerings include HAZMAT, extrication, law enforcement tactical, fighting propane fires and more. Due to the generous support of donors, there is no cost to use the facility unless consumables are used for training. Firefighters and first responders are required to face new and evolving challenges while regulations and requirements are getting more difficult.
About the company:
Performance Advantage Company, established in 1992, is a privately-owned company that manufactures and markets high-quality tool-mounting brackets. PAC's primary market is the fire industry, providing specialty tool-mounting solutions for fire apparatus. Other markets include the military, law enforcement, EMS, utilities and the Homeland Security Department. PAC provides adjustable mounts, universal mounts, friction locking brackets, custom tool boards and more. A full list of their products and specifications can be found on their website. Performance Advantage Company is headquartered in Lancaster, N.Y., a suburb of Buffalo, and sells its products directly or through a worldwide network of dealers. Please visit PAC on the web for more information at http://www.pactoolmounts.com or find them on Facebook.