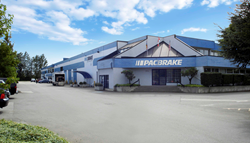 This is about a BC-based, Canadian engine brake and aftermarket manufacturer announcing its return to global market prominence.
SURREY, B.C. (PRWEB) November 20, 2019
The Pacbrake Company announced today that its new, patented rocker arm engine brake, which offers performance improvements as well as weight, cost and space savings over traditional rocker arm engine brakes, will be used by Zhejiang Kanghe Mechanical Engineering Co. in the development of I4 and I6, 4 and 6 cylinder engines, for BMC Power Motor (BMC).
"This is about a BC-based, Canadian engine brake and aftermarket manufacturer announcing its return to global market prominence," says Aran Kay, Pacbrake Marketing Manager.
Performance improvements of up to 10% additional braking horsepower, over conventional compression release engine brakes, were published to the Society of Automotive Engineers (SAE) on April 3, 2018. Weight, cost and space reduction figures are private.
Compression release engine brakes are devices which, when activated, transform an engine from producing power to absorbing power, converting an engine into an air compressor. This allows the vehicle operator to slow or control vehicle speed. Their use is widespread in the heavy-duty diesel transport industry. When attempting to slow the vehicle, heavy hauling results in severe demand on the service brakes, causing overheating and accelerated wear. The power consumption of the engine generated by the compression release brake reduces the demand on service brakes, increasing safety and extending the life of the service brake.
Traditionally, the compression release engine brake is installed as a stand-alone system in the valve train. Often, the engine designer must make many accommodations such as increasing space in the valve train, supplying dedicated oil feed lines and ports, or adding an additional dedicated lobe on the camshaft. High cost and substantial weight increase are typical characteristics of engine brakes for these reasons. Pacbrake's novel design offers advantages in weight, cost and space savings that are welcomed by the industry and reaffirms Pacbrake's leadership in the market.
"The combination of Pacbrake's agility and strengths in product development, paired with Kanghe's extensive experience in high quality yet economical manufacturing has formed a collaboration able to provide superior customer value," says Pacbrake President Gabriel Gavril.
Media Contact:
Aran Kay
Marketing Manager, Pacbrake Company
Tel: 604-882-2350
Email: aran.kay@pacbrake.com
About Pacbrake Company
For more than 50 years, Pacbrake has designed, developed and manufactured engine and exhaust brake solutions for OEMs and aftermarket customers. Pacbrake supplies some of the largest commercial engine and truck builders in North America, Asia and Europe.
About Zhejiang Kanghe Mechanical Engineering Co.
Zhejiang Kanghe Mechanical Engineering Co. are engine component manufacturers with worldwide customers which has been manufacturing engine brakes for international customers for many years. They have the ability to manufacture world class components for the engine industry at their state-of-the-art manufacturing center situated in Tiantai, Zhejiang province.
About BMC Power Motor
BMC Power Motor is a subsidiary of the BMC Group, which for the last 50 years has been manufacturing a large variety of vehicles for commercial and military application serving Turkish as well as international markets. With a vision to become a leading national technology company in the fields of defense industry land vehicles, buses, trucks, rail systems, engines and related technologies, BMC Group is moving rapidly towards its goals of becoming a world brand.