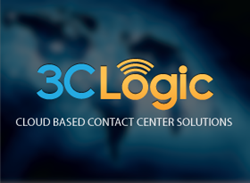 Companies are increasingly looking to use customer experience to differentiate their brands.
Rockville, MD (PRWEB) March 22, 2016
3CLogic, a leading provider of multichannel cloud contact center software, today announced its sponsorship of PACE's (Professional Association of Customer Engagement) 2016 Annual National Convention and Expo. In addition, the company's Chief Innovation Officer, Robert Killory, will be among a select group of industry experts chosen to speak at this year's conference to discuss the various ways today's businesses can leverage technology to enhance internal efficiencies, boost customer satisfaction, while remaining compliant with the latest industry regulations.
As the only non-profit trade organization dedicated exclusively to the advancement of companies that use a multi-channel approach to engage their customers, the annual PACE event is a heavy favorite for organizations searching for the latest multichannel technologies and industry best practices. The event routinely attracts some of the largest and most reputable organizations known for their superior customer service, including Marriott Vacations Worldwide, Sirius XM, Wyndham Vacation Ownership, TransAmerica, and Starpoint Resort Group, to name a few.
"Companies are increasingly looking to use customer experience to differentiate their brands," states Robert Killory, "which in today's multichannel environment requires the latest contact center technologies and processes to manage the different mediums upon which those engagements take place while adhering to current regulatory rulings."
The session will specifically address how to select and leverage multichannel contact center solutions to support enhanced customer engagement while remaining flexible to changes in technology, business requirements, consumer demand, and industry regulations. It will be a part of the conference's technology track in Session C on Monday, April 4, from 3:15-4:00 pm. 3CLogic will also be exhibiting at booth #210 April 3rd- 6th at the Rosen Shingle Creek in Orlando, FL.
Additional details and registration information are available here.