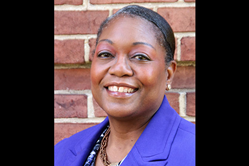 NEW YORK (PRWEB) July 30, 2020
After an extensive nationwide search that included candidates from across the country, Pace University today announced the appointment of Tresmaine R. Grimes, PhD, as dean of the Dyson School of Arts and Sciences and the School of Education.
In appointing Grimes in a dual role of serving as the new dean of its largest school and the School of Education, President Marvin Krislov cited the native New Yorker's impressive background in higher education; her steadfast belief in the power of education to transform lives; and her commitment to diversity and inclusion throughout her career.
"Dean Grimes is a student-focused leader with strong commitments to research, scholarship, and student success," said Pace President Marvin Krislov. "A first-generation college student passionate about supporting other first-gen students and a dedicated mentor to generations of students and colleagues, she has the vision to guide Dyson College and the School of Education into a strong future."
Grimes was born in Brooklyn and raised in Manhattan. She was the first generation in her family to earn a college degree after a high school guidance counselor saw potential and encouraged her to apply to college. She excelled on campus and earned a Bachelor of Arts from Yale University with a double-major in Afro-American Studies and Psychology. She then pursued her studies at The New School for Social Research where she received a Master of Arts in Psychology, and later earned a Master of Philosophy and doctorate in Developmental Psychology from Teachers College, Columbia University.
Grimes' rise in higher education is equally as impressive: Her career began at South Carolina State University as a member of the Psychology and Sociology Department. During her nine-year tenure at SC State, Grimes served as chair of the department for four years. In 2000, she joined the faculty of Iona College as an adjunct professor of psychology, and worked her way to become a tenured associate professor of psychology. Seven years later, Grimes was promoted to Assistant Vice President for Academic Affairs at Iona College, a position she held eight years. After Iona, she went to Bloomfield College where she served as Vice President for Academic Affairs/Dean of Faculty and a psychology professor for four years.
In joining the leadership at Pace University, Grimes said she's excited to fulfill its mission of Opportunitas, and to guide students along a path to academic, professional, and personal success. She looks forward to mentoring students and faculty alike so that they can think, learn, grow, and adapt in a constantly changing global marketplace.
"Education provides us with an opportunity to move beyond our own boundaries and, at times, our self-imposed limitations," Grimes said. "I've had so many opportunities in education and beyond because someone saw something in me. As an educator, I believe it's my responsibility to open doors for others and encourage people to appreciate the process of learning. I'm so excited to be joining the Pace community."
Grimes noted that she was impressed with Pace's top ranking among four year universities in upward economic mobility among four-year private universities, according to a study conducted by Harvard University's Opportunity Insights, a distinction that is an integral part of the university's mission and academic DNA, she said.
"Dean Grimes understands all too well that higher education provides life-changing opportunities and is a driver of social mobility," said Vanya Quiñones, provost, Pace University. "She knows this from experience and has seen it in the thousands of lives she has influenced as an educator. She's the right fit for our students and faculty and we couldn't be happier that she's joined us."
During her career, Grimes has been particularly dedicated to issues of mental health. In 2004, she was part of a delegation of American mental health professionals that traveled to South Africa to exchange ideas with mental health professionals in that nation. The primary focus of the trip was to study the impact of apartheid-related trauma, sexual assault, and HIV/AIDS on the mental health status of the South African population. Grimes has also served as a grant reviewer for the Department of Health and Human Services and for several faith-based funding initiatives.
Over the years, Grimes has received many awards and recognitions. She was the recipient of the South Carolina Psychological Association Teacher of the Year Award in 1998 and 1999 and was nominated for Teacher of the Year at South Carolina State University in 1996. She is especially pleased that several of her psychology students have gone on to earn doctorates in psychology and related fields. She considers this her contribution to the effort to increase the number of ethnic minority psychologists and mental health professionals in the United States.
In addition to her active professional life, Grimes is a pastor and the founder of a 501(c)(3) nonprofit organization established to provide education to prevent domestic violence in faith-based communities. She and her husband, Clarence, are the parents of two adult children and have two grandchildren. They live in New Rochelle, NY.
About Dyson College: Pace University's liberal arts college, Dyson College offers more than 50 programs, spanning the arts and humanities, natural sciences, social sciences, and pre-professional programs (including pre-medicine, pre-veterinary, and pre-law), as well as many courses that fulfill core curriculum requirements. The College offers access to numerous opportunities for internships, cooperative education and other hands-on learning experiences that complement in-class learning in preparing graduates for career and graduate/professional education choices. http://www.pace.edu/dyson
About Pace University
Pace University has a proud history of preparing its diverse student body for a lifetime of professional success as a result of its unique program that combines rigorous academics and real-world experiences. Pace is ranked the #1 private, four-year college in the nation for upward economic mobility by Harvard University's Opportunity Insights, evidence of the transformative education the University provides. From its beginnings as an accounting school in 1906, Pace has grown to three campuses, enrolling 13,000 students in bachelor's, master's, and doctoral programs in more than 150 majors and programs, across a range of disciplines: arts, sciences, business, health care, technology, law, education, and more. The university also has one of the most competitive performing arts programs in the country. Pace has a signature, newly renovated campus in New York City, located in the heart of vibrant Lower Manhattan, next to Wall Street and City Hall, and two campuses in Westchester County, New York: a 200-acre picturesque Pleasantville Campus and a Law School in White Plains. http://www.pace.edu