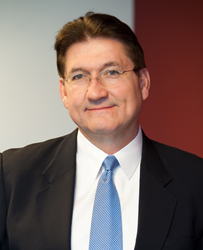 Dr. Singleton has a proven track record of program innovation and a deep dedication preparing students for successful careers.
NEW YORK (PRWEB) August 06, 2020
Pace University appointed Lawrence G. Singleton as dean of the Lubin School of Business, President Marvin Krislov today announced.
In naming Singleton as dean of Pace University's business school, which has an established global reputation for preparing students to be competitive, successful and ready on day one in their careers, Krislov cited the new dean's leadership and success at the School of Business at The George Washington University and Marist College, along with his professional experience as a professor, certified public accountant, and consultant to major companies around the world.
"Dr. Singleton has a proven track record of program innovation and a deep dedication preparing students for successful careers," said President Marvin Krislov. "He'll provide exactly the leadership Lubin needs to adapt for a competitive future, while staying true to its roots as the best place in New York for a hands-on, skills-based business education. We're excited to have him join us at this critical time."
Dean Singleton most recently served as dean and professor of accounting and international business at Marist College in Poughkeepsie, NY. He was previously a member of the faculty of the School of Business at The George Washington University in Washington, D.C. where he held many leadership positions, including associate dean for undergraduate programs.
In addition to his academic credentials, Singleton has held many professional positions throughout his career. He worked in the audit and National SEC Practice groups of Ernst & Young LLP's Washington office, and was a visiting professor at Grenoble Ecole de Management in France and Peking University in China. He has also served as a consultant to many of the world's leading organizations, including Cisco Systems, Inc., Harley-Davidson Motor Company, NASDAQ Stock Market, National Geographic Society, and The World Bank.
Singleton is a member of the American Institute of Certified Public Accountants, Beta Gamma Sigma, Beta Alpha Psi, the American Accounting Association, the National Investor Relations Institute, and the Society for Human Resource Management.
He currently serves on the Board of Governors of Beta Gamma Sigma and as a member of the Board of Directors of The Hudson Renewable Energy Institute. Singleton received PhD, MS, and BS degrees in accounting from Louisiana State University. He is a certified public accountant and a chartered global management accountant.
"I couldn't be more pleased to be joining Pace University where job-readiness, career placement, and world-class scholarship are part of the fabric of the institution," Singleton said. "I look forward to working with students, faculty, staff, leadership and alumni to continue this tradition during what is a critical, competitive and exciting time for both business and education."
Pace University was initially established as a business and accounting school in 1906, and while it has grown considerably since its inception, it remains true to its beginnings. The Lubin School of Business is renowned around the world and is routinely ranked by U.S. News & World Report. It is one reason why Pace is ranked the No. 1 private, four-year college in the nation for upward economic mobility by Harvard University's Opportunity Insights.
Earlier this year, Lubin launched an accelerated and revamped MBA program that is faster, flexible, and more convenient for students, complete with a specialized curriculum, which includes in-person classes, an exclusively online MBA option, and a mix of both -- ideal for working professionals and people looking to advance their careers. To learn more about the program, specific course offerings, or any of its other specialties and degrees, visit the Lubin School of Business. https://www.pace.edu/lubin/
"A high-quality education that provides students with knowledge, skills and connections is a must in today's competitive marketplace," said Pace Provost Vanya Quiñones. "Dean Singleton understands what our students need to thrive at Pace and in their careers. We're thrilled to have him join our community."
About Pace University
Pace University has a proud history of preparing its diverse student body for a lifetime of professional success as a result of its unique program that combines rigorous academics and real-world experiences. Pace is ranked the #1 private, four-year college in the nation for upward economic mobility by Harvard University's Opportunity Insights, evidence of the transformative education the University provides. From its beginnings as an accounting school in 1906, Pace has grown to three campuses, enrolling 13,000 students in bachelor's, master's, and doctoral programs in more than 150 majors and programs, across a range of disciplines: arts, sciences, business, health care, technology, law, education, and more. The university also has one of the most competitive performing arts programs in the country. Pace has a signature, newly renovated campus in New York City, located in the heart of vibrant Lower Manhattan, next to Wall Street and City Hall, and two campuses in Westchester County, New York: a 200-acre picturesque Pleasantville Campus and a Law School in White Plains. http://www.pace.edu.
About the Lubin School of Business at Pace University
Globally recognized and prestigiously accredited, the AACSB International-accredited Lubin School of Business integrates New York City's business world into the experienced-based education of its students at Pace's suburban and downtown campuses, implemented by one of the region's largest co-op programs, team-based learning, and customized career guidance. Its programs are designed to launch success-oriented graduates toward upwardly mobile careers. http://www.pace.edu/lubin.