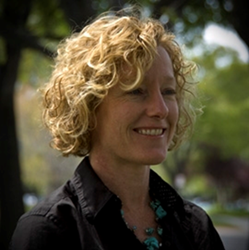 We are calling on President Eibeck to consider creative solutions that solve the revenue crisis at Pacific that benefit the long-term success of the university without sacrificing the very programs that boost its appeal," said Kerry McCracken CEO and founder of Say Yay & Pacific field hockey alumna
STOCKTON, Calif. (PRWEB) December 11, 2018
Today, a coalition of students and alumni with an outpouring of support from the U.S. Olympic Committee and USA Field Hockey, announced that they have joined forces to save the Olympic sport of women's field hockey at the University of the Pacific. The coalition came together quickly with news on Dec. 3 that blindsided all that a sport with 70-years of tradition on campus, including over 40 years as a varsity sport, would be eliminated. The group is asking Pacific President Pamela Eibeck and the Board of Regents to reconsider the decision to prevent a damaging reputation as well as a cascading effect of the potential elimination of women's field hockey for the entire West Coast. The coalition is open to collaboration, including an agreement to extend the field hockey program one year while a strategy to save the sport at Pacific is put in place.
"My parents went to Pacific and I always wanted to be a Tiger and was thrilled to see the school invest so much time and effort into building a competitive field hockey program," said Ellie Morrison, the daughter of Leigh McNiff who played field hockey 1983-1987, and Scott Morrison who played football and baseball at Pacific 1984-1987. "I'm now scrambling to find somewhere else to play and every school has already filled their rosters for 2019. This is absolutely heartbreaking, poorly executed to give us time to find alternatives, and hurts the entire student athlete community."
"We are calling on President Eibeck to consider creative solutions that solve the revenue crisis at Pacific that benefit the long-term success of the university without sacrificing the very programs that boost its appeal," said Kerry McCracken, CEO and founder of Say Yay and a Pacific field hockey alumna who graduated in 1987. "The admissions revenue has simply not kept pace with Pacific's investments, and women athletes are being punished for the administration's inability to execute against its revenue plan."
Earlier this year, Pacific's faculty passed a vote of no confidence of President Eibeck, and recently students have protested her decisions to increase tuition and other fees via channels like Twitter's @UOPinDecline, bringing the overall revenue crisis at the university into focus. A quick look at Pacific's public financial statements between 2014 and 2018 show that spending has gone up $33 million, while revenue has only gone up by $16 million. The 2018 depreciation expense line is about $22 million, which is only $2 million less that the entire athletic department budget of $24 million.
Eibeck asked all departments to cut expenses, which are expected to be announced in the spring of 2019, with the Athletic Department taking the biggest hit. Discussions were had to eliminate women's field hockey, men's water polo, and the men's and women's swimming and diving teams. The field hockey program drew the short stick—players were blindsided that the program would be eliminated in June 2019. Outside of athletics, it has also been reported that other departments are considering asking faculty to retire early, cut programs and revisit tenure.
"We understand Pacific's need to invest and aren't here to debate those investments in great facilities and programs, but it's not enough to just build things," said Luci Lagrimas, director of engineering at Cisco Systems, Inc. who was a three-time All-American field hockey player at Pacific and has also served as an NCAA Division I official. "You have to market them and sell them too. Cutting athletic programs won't bring in more students. At the very least, the decision to cut field hockey should be paused for a year so there is time to devise a better strategy."
Both McCracken and Lagrimas serve on Pacific's School of Engineering and Computer Science (SOECS) Dean's Council and have been named Distinguished Alumni for the SOECS.
Alumni and students are putting their fighting tiger spirit into action to save the program with support from the United States Olympic Committee (USOC) who have asked to meet with Pacific Athletic Director Janet Lucas to discuss how to secure field hockey and all Olympic sports within the Pacific athletic department. Over 10,000 people have signed a Change.org petition created by current Pacific field hockey players.
"The USOC has never extended this type of collaboration request to a specific university, but it's imperative that we save these sports that not only inspire young adults in the West to enroll at Pacific, but provide vital development to elite athletes and coaches," said Sarah Wilhelmi, director of collegiate partnerships with the United States Olympic Committee. "The collegiate system is vital to developing and supporting the Olympic dreams of many young athletes in this country and we encourage University of the Pacific to continue to provide this educational pathway to field hockey, swimming, and water polo."
Pacific invested in growing the field hockey program just four short years ago with a state of the art facility, resulting in four division titles, 38 academic All-American squad awards, five All-American awards, and an impressive winning percentage of 62 percent. The coalition is confident that with the support of alumni, students, West Coast field hockey teams, and champions of women's athletics that it can find a way forward and has offered to assist their vast business knowledge to President Eibeck to address the real problem at Pacific, which is of lack of revenue.
About Save Pacific Field Hockey Coalition
The Save Pacific Field Hockey coalition is a group of students, alumni and their allies, which include USA Field Hockey, and U.S. Olympic Committee, who are committed to saving the sport as a NCAA Division I program at University of the Pacific. Learn more at http://www.savepacifichockey.com or email JoinTheRoar@savepacifichockey.com.