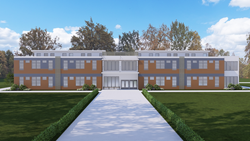 We are excited to bring to market the most innovative two-story modular structure to the Pacific Northwest.
CHEHALIS, Wash. (PRWEB) November 02, 2021
Today, Pacific Mobile Structures, is announcing the SAGE Campus. Building on the award-winning and popular SAGE Classroom, pioneered by Pacific Mobile alongside Portland State University and Blazer Industries, the SAGE Campus offers all the benefits of the original SAGE Classroom across an entire school building and site. As such, it is designed on the principle that productive learning environments for students must begin with healthy spaces and materials.
"From the very first classroom sold to Edmonds School District, to three- to five-classroom SAGE Complexes, and now a complete SAGE Campus, this is a culmination of years of work. The passion and design expertise that Portland State University architecture faculty and students have given to this project make this a really special partnership between Portland State, Pacific Mobile, and Blazer Industries," said Patrick Allen, Pacific Mobile Structures Sales Representative.
"We are excited to bring to market the most innovative two-story modular structure to the Pacific Northwest that provides all of the SAGE design standards in 30% to 40% less time," said Tom Coyle, Senior Vice President of Construction Development.
The SAGE Campus is able to exceed today's increased requirements for air quality and ventilation in school buildings through its use of high-performance heating, and air-conditioning systems paired with energy recovery ventilation. This system is enhanced with passive strategies like operable clerestories, fans, and louvers to provide 100% fresh air to every classroom in the building. It does so while maintaining an acoustically quiet environment as well as reducing energy usage.
The SAGE Campus's modular construction ensures both high-quality workmanship and quick assembly, while steel floor systems offer greater longevity. The building materials are also chosen specifically for their low environmental impact. Lastly, the classroom focuses on natural daylighting by maximizing the amount and placement of glazing, the use of specialty filters and light enhancing paints and the inclusion of transparent floor panels. Light monitors in all public spaces ensure that not only classrooms but all spaces in the building enjoy the benefits of natural lighting to enhance learning and well-being for all students.
The two-story SAGE Campus design offers a fast and effective solution to school districts in need of additional learning space without sacrificing much-needed infrastructure such as basketball courts and playgrounds.
The SAGE Campus features:

Design for enhanced learning efficiency
High-performance heating, ventilation, and air-conditioning systems
100% fresh air to every classroom
Quality workmanship and quick assembly
Exposed trusses, steel floors, and cork accent walls
Low- to no-VOC building materials
Glazing, specialty filters, light enhancing paints, and transparent floor panels for maximum natural daylighting
Option for customization with multipurpose rooms for use as a gymnasium, cafeteria, modular kitchen facility, locker room, and/or restroom
The SAGE line of buildings was brought to market through a team of industry partners to create a better, cleaner, healthier and more energy-efficient classroom. With over 150 SAGE Classrooms sold and in operation throughout the Northwest, it has been proven to be the leader in modular classrooms of the future. SAGE has taken home the coveted SEED award at the Greenbuild International Conference and Expo and has won multiple awards at the Modular Building Institute Awards of Distinction.
To learn more about the new SAGE Campus, please visit here.
ABOUT PACIFIC MOBILE STRUCTURES 
Since 1983, Pacific Mobile Structures has provided superior mobile office space to thousands of jobsites. Family-owned for two generations and with multiple locations throughout Washington, Oregon, Idaho, California, and Texas, Pacific Mobile Structures is known for delivering the highest-quality mobile offices, permanent modular construction, educational facilities, and government services, with a commitment to customer service excellence built on the cornerstones of experience, quality, flexibility, and dedication.