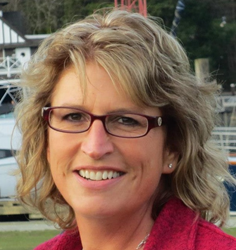 "I feel that if I want to help find a treatment and a cure, I must educate anyone who will listen about FSHD."
PUYALLUP, Wash. (PRWEB) August 21, 2018
Today, the FSH Society, the world's largest research-focused patient advocacy organization for facioscapulohumeral muscular dystrophy (FSHD), announced that its Pacific Northwest chapter will be holding its first-ever Walk & Roll to Cure FSHD in the the Puget Sound area. The event, scheduled for September 22nd at Bradley Lake in Puyallup, WA, advocates for public awareness and is raising funds to support the Society's work.
The FSH Society's mission is to accelerate the development of therapies while empowering individuals affected by FSHD. "Our goal is to deliver a treatment or cure to our families by the year 2025," declared the Society's President and CEO, Mark Stone.
FSHD is among the most prevalent of the nine primary types of muscular dystrophy affecting adults and children. The genetic condition is estimated to affect 870,000 individuals worldwide and causes progressive weakness, typically in the face, shoulder blade, arms, legs, and torso, but may affect almost any skeletal muscle in the body. There is currently no treatment or cure and approximately one-quarter of patients become dependent on wheelchairs.
"Our event is called the 'Walk & Roll' because FSHD can affect individuals very differently," explained Nancy Payton of Puyallup, WA. Payton serves on the board of directors for FSH Society and is the Founding Pioneer of the PNW Walk & Roll. "Some people may have weakness in the upper body but can still walk and run. Others require a scooter or wheelchair to get around. Our event is inclusive of everyone."
The Pacific Northwest Walk & Roll to Cure FSHD will embark at 9:00 AM, with check-in and registration at the gazebo opening at 8:00 AM. "Our walk is around 5K and follows paved trails through forested areas, over wooden footbridges and around scenic Bradley Lake where there is so much for families to see and do. It will be a fun event," said Payton.
"We want to thank all of our generous sponsors – Jones Covey Group, Inc, #CureFSHD, Zanpa Sea Glass Jewelry, Happy Donuts, Dr. Carl Knox. Smile Right Orthodontics, Humana, East Main Vision Clinic, Sportsman's Warehouse, The Ram, Wanna Cupcake, and Home Depot – for helping us reach our goal of $10,000. We are still accepting booths for exhibits on walk day!"
Payton's dedication for this cause stems from discovering five years ago that her 18-year-old son has FSHD. He had been diagnosed with Coats Disease the year prior, and it was a mom in a Facebook Coats Disease group who wrote one sentence that clued me in: 'My son is being tested for FSHD.' I had never heard of FSHD, and I didn't want to look ignorant, so I googled it and every symptom, including the eye symptoms of Coats Disease, fit my son. My heart sank." The doctor did not want to test him. "He told me, 'He already has one rare disease, the odds of him having two are a billion to one.' I told him, I don't care. Test him. I was right. He does have FSHD."
"I learned through this process that there may not be a lot of doctors who are aware of this type of muscular dystrophy," Payton said. "That is what happens when you have a rare disease. I feel that if I want to help find a treatment and a cure, I must educate anyone who will listen about FSHD."
In addition to organizing the Walk & Roll, Payton is very active in the Puyallup Rocks group, which paints rocks with the hashtag #CureFSHD and leaves them in public areas for people to find. "It warms my heart when someone posts that they found a rock and took the time to see what the hashtag is about. That is another way that I help to increase awareness of FSHD!"
Payton invites the community of Puyallup and all of the Pacific Northwest to join in the excitement and fun of the inaugural Walk & Roll to Cure FSHD. "The Walk & Roll is first and foremost a fundraiser, generating critical funds to support the search for treatments and a cure, but it is also about so much more," said Payton. "On event day, for a few hours, we all join together as one. Living with FSHD can be a lonely road. At the Walk & Roll, we realize no one makes the journey alone."
To learn more and register for the walk, visit FSHSociety.Rallybound.org/PNWWalkandRoll.
About the FSH Society
The FSH Society is the world's largest research-focused patient organization for facioscapulohumeral muscular dystrophy (FSHD), one of the most prevalent forms of muscular dystrophy. We have catalyzed major advancements and are accelerating the development of treatments and a cure to end the pain, disability, and suffering endured by one million people worldwide who live with FSHD. The FSH Society has transformed the landscape for FSHD research and is committed to making sure that no one faces this disease alone. The Society offers a community of support, news, and information through its website at https://www.fshsociety.org.