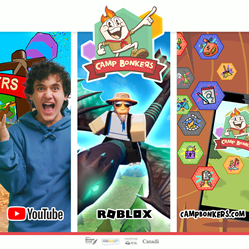 "For Campers 6-9 yrs, we've created the first of its kind integrated experience by launching Camp Bonkers on multiple platforms that enable kids to experience camp both digitally and physically in places where they're already playing."
VANCOUVER, British Columbia (PRWEB) August 02, 2022
Pioneering multi-platform entertainment company Wind Sun Sky Entertainment (WSS) is transforming the living room into the great outdoors with Camp Bonkers, the wildly fun virtual summer camp experience. In June 2020 and 2021, elementary-school aged campers held their marshmallow smores tight as they laughed, crafted, and embraced the power of their imagination, all from the comforts of their home. Now, Camp Bonkers is back with new YouTube content, a Roblox game and an interactive destination website designed to actively engage kids on-screen and off, and get them up and doing while involving the whole family by earning camper badges and rewards.
"Camp Bonkers was created to bring the great elements and transformative experience of summer camp to kids everywhere year-round." said Catherine Winder CEO of WSS. "For Campers 6-9 yrs, we've created the first of its kind integrated experience by launching Camp Bonkers on multiple platforms that enable kids to experience camp both digitally and physically in places where they're already playing."
As summer camps around the world are opening up again, Camp Bonkers is expanding their footprint with a trifecta of experiences for campers year-round:

WATCH Campers be inspired and inquisitive about the outdoors and everything camp by viewing Camp Bonkers Counselors on YouTube! Get Roblox inside tips, tricks and exclusives, see them take-on Bonkers challenges, awesome experiments and create imaginative crafts.
PLAY the world of Camp Bonkers on Roblox! Kids can be a camper or a camp counselor and explore all that Camp Bonkers has to offer. Campers can fish, challenge themselves with scavenger hunts, build their own camp world, handglide race, personalize their camp themed activities, make new BFFs, and much, much more.
LIVE Bonkers at campbonkers.com! Campers can dig-in with friends and family through a variety of themed real-world challenges to earn cool virtual badges and exclusive Roblox prizes and collectables.
Now as WSS looks to start pitching new Camp Bonkers tents, they've teamed up with The Shaw Rocket Fund to form a strategic partnership focused on weaving Camp Bonkers into this first of its kind immersive experience. They've also united with Gamefam, the world's first fully dedicated Roblox developer and publisher, to turn Camp Bonkers into an engaging rich Roblox game. This powerful combination has transformed Camp Bonkers into a unique multi-platform universe for kids and families.
"Camp Bonkers started out as a YouTube series during the early days of the pandemic when kids were stuck at home. It has now grown into an innovative multi-platform franchise" said Jay Bennet, WSS's VP Franchise Creative Strategy. "The three interconnected platforms give kids – and families - the opportunity to engage with the brand beyond the screen via real-world crafts and challenges while still having that digital connection via Roblox rewards and collectables. This mix gives kids a winning combination of experiences while providing parents with the piece of mind that their kids are being challenged to be active, creative, and enjoy the best that camp has to offer."
Explore this multi-media camp by visiting campbonkers.com, watching on the Camp Bonkers YouTube channel or play on Roblox.
ABOUT WIND SUN SKY ENTERTAINMENT:
Wind Sun Sky Entertainment (WSS) is a Canadian multimedia company led by former LucasFilm executive, Catherine Winder (Invincible, The Angry Birds Movie 1 & 2, Star Wars: The Clone Wars). Based in Vancouver, WSS builds franchises with a focus on creator-driven content for the global marketplace, producing in all mediums including interactive, film, episodic (live action and animation), and mobile apps. In partnership with Skybound Entertainment, WSS produced the global hit series Invincible, an animated dramatic adaptation of Robert Kirkman's comic book for Amazon Prime. In the kids' space, WSS adapted the musical mobile game My Singing Monsters into a toy line with PlayMonster and Commonwealth and produced the first of its kind live interactive animated show My Singing Monsters Fandemonium. WSS also adapted HEXBUG's popular toy line, Junkbots, into a web series and Roblox game.The studio is currently in production on the adult comedy animated series Psi Cops for Adult Swim Canada as well as Camp Bonkers, a first of its' kind multi-platform property that includes a Roblox Game, an App, a kids' variety show on YouTube and Toonavision. To learn more about Wind Sun Sky Entertainment go to https://windsunsky.com.
ABOUT SHAW ROCKET FUND:
The Shaw Rocket Fund is a vital partner of the Canadian children's media sector in offering children robust, world-leading content on all platforms. The Rocket Fund invests in and supports Canadian-made media that reflects Canadian values and diversity, and most of all respects and speaks to children, while positively showcasing Canadian leadership on the world stage. By working with producers, regulators, and governments, the Shaw Rocket Fund aims to make quality content for kids a global priority. Since its inception, the Shaw Rocket Fund has invested over $259 million to support the production of Canadian media content for children, family, and youth audiences worldwide. The Shaw Rocket Fund is supported by Shaw Communications Inc. To learn more about the Shaw Rocket Fund, go to rocketfund.ca.
ABOUT GAMEFAM
Gamefam is the leading professional publisher and developer of games on metaverse platforms like Roblox, Minecraft, and more with experiences that average 27MM+ gameplay sessions per day. Our mission is to create dynamic experiences for an amazing community while we grow the next generation of super hit gaming and entertainment franchises from within the metaverse. Gamefam operates the largest network of games on Roblox with over 750 million monthly visits comprising 83 million hours of engagement across 30+ live games in the company's portfolio. Gamefam's top franchises include All Star Tower Defense, Twilight Daycare, Tower of Misery, Car Dealership Tycoon, RoBeats!, Gym Tycoon, Hot Wheels Open World, and Eating Simulator. The Gamefam team combines the business and production expertise of longtime brand experts and game industry professionals with the metaverse's top creators. For more information, visit https://gamefam.com.
Media Contact:
Julie Stern/julies@brilliantprm.com/860-805-4988