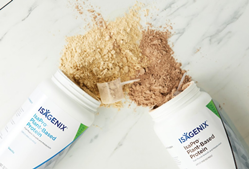 It's exciting and gratifying to consider that what we've accomplished so far and what we'll achieve moving forward will help current and future generations enjoy a healthier planet. - Isagenix Chief Visionary Officer Erik Coover
GILBERT, Ariz. (PRWEB) April 22, 2020
Isagenix International continues making significant progress toward its zero-waste packaging goal, including transitioning more products to 100% post-consumer recycled (PCR) plastic. The global health and wellness company recently reached three milestones in its journey to convert all packaging components to be made with recyclable, reusable, compostable, or recycled materials by 2028:

Effective this quarter, Isagenix is transitioning IsaFlush® and Natural Accelerator™ bottles to 100% PCR plastic. The change will save 1.2 million bottles of recyclable virgin plastic from being produced during the next 12 months. Isagenix is also transitioning canisters to PCR plastic, a process that started in 2018 with IsaLean® Shake and IsaPro®. In total, more than half of the company's products packaged in bottles and canisters are now made with 100% PCR plastic.
Isagenix is discontinuing plastic bottle neckbands for future production of nine products, including Isagenix Joint Support™, IsaKids® Essentials, and IsaOmega™. This equates to removing about 2.3 million neckbands per year, which equals 53 miles of plastic. The company started producing products without neckbands in the first quarter. In total, more than a quarter of the company's products that once had plastic neckbands will no longer have them.
In November, Isagenix stopped placing plastic shrink-wrap around boxes of Chocolate Decadence and Lemon Passion Crunch IsaLean Bar and Fiber Snacks™. As a result, approximately 550,000 boxes will not be shrink-wrapped this year.
"It's exciting and gratifying to consider that what we've accomplished so far and what we'll achieve moving forward will help current and future generations enjoy a healthier planet," said Isagenix Chief Visionary Officer Erik Coover. "We're committed to setting an example for how companies can take being sustainable from dream to reality."
For Isagenix, going green involves not only its packaging choices but also its shipping and world headquarters operations as well as its product choices. The company is absorbing the cost of all sustainability improvements.
Shipping
Isagenix expects to use 75,000 fewer eco-friendly, insulated coolers for heat-sensitive products this year because it now ships to the Pacific Northwest from a recently opened Reno, Nevada, distribution center instead of an Arizona distribution center. Due to the Reno center's more moderate temperatures, Pacific Northwest customer shipments will require coolers for a shorter amount of time this year than last year (from June to August vs. May to October). The expected reduction of 75,000 coolers, when stacked on top of each other, is 14.2 miles high, more than two times the height of Mount Everest.
Additional shipping milestones include:

Effective this year, when Isagenix moves shake canisters from its third-party manufacturers to its distribution centers, it no longer uses cardboard boxes and plastic shrink-wrap around those boxes. It instead uses cardboard trays without the wrap. Over one year, this will result in a 3.2-million-square-foot reduction in cardboard and a complete elimination of plastic shrink-wrap.
The company recently resized its cardboard boxes, resulting in a 15% reduction in the amount of air pillows used in its U.S. and Canada distribution centers when preparing shipments.
World Headquarters Operations
Isagenix has seen multiple benefits from making sustainable choices at its world headquarters in Gilbert:

Photovoltaic solar panels installed on parking lot shade structures at the 166,000-square-foot building in 2018 are expected to provide approximately 463,000 kilowatt-hours of renewable energy annually. This amount is enough to allow clean energy to power nearly one-fourth of the building's energy needs.
Since their installation last year, three electric vehicle charging stations have helped 12 drivers with electric vehicles avoid 12,472 kilograms of greenhouse gas emissions, which is the equivalent of planting 320 trees and letting them grow for 10 years.
Products
Isagenix not only seeks out ingredient suppliers who demonstrate a focus on sustainability but also offers several plant-based products, such as Harvest Thins™, a protein snack available in two flavors, including Garlic & Herb, which debuted in January. Additional plant-based offerings include:

IsaPro Plant-Based Protein: The complete protein launched last year with two flavors. The product offers vegans, vegetarians, and flexitarians an alternative to whey-based IsaPro so they can have the benefits of an Isagenix protein concentrate.
Plant-based IsaLean Shake: The whey- and dairy-free shake comes in three flavors, including Strawberry, which debuted last year.
For more information about the company's sustainability efforts, visit the Isagenix sustainability webpage.
To learn more about Isagenix, visit the Newsroom, like the company on Facebook, and follow it on Twitter and Instagram.
About Isagenix International
Established in 2002, Isagenix provides systems for weight loss, performance, vitality and well-being, personal care and beauty, and financial wellness. With more than 400,000 customers worldwide and more than 100 products, packs, and systems globally, the company is committed to supporting healthy change in its customers' and independent distributors' lives. Isagenix shares its products and solutions through a network of independent distributors in 14 markets: the United States, Canada, Puerto Rico, Hong Kong, Australia, New Zealand, Taiwan, Mexico, the United Kingdom, Ireland, the Netherlands, Belgium, Spain, and South Korea. Isagenix is a privately owned company with headquarters in Gilbert, Arizona. For more information, visit Isagenix.com.