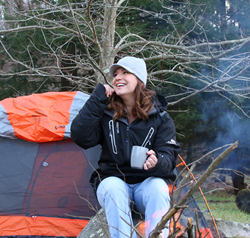 Trekking through the mountains demands the perfect balance of protection, breathability and weight, and our weatherproof, windproof 3M™ Thinsulate™ jacket delivers maximum protection all year round, everyday!
WAYNE, Pa. (PRWEB) February 05, 2019
Packsture, a most exciting and innovative maker of outdoor gear, is proud to unveil the next generation of outdoor jackets poised to change the way many athletes and adventurous people experience the outdoors. Our newly unveiled jacket is loaded with features and capabilities that will make outdoor adventures even more enjoyable. The jacket comes in sizes XS to XXXL, and it's unisex!
The outdoor community has been excitedly anticipating the introduction of the Packsture Jacket to the Kickstarter community, where they can snap it up at an impressive 75 % off during their early bird special, starting on February 5, 2019, before it hits the market at full price.
Following a massive social media presence when they started a pre-campaign in the beginning of 2018, the Packsture team has set out to introduce a clothing line with premium unmatched performance and durability for the outdoor community.
Made with laser cutting technology, the Packsture Jacket, with its many features and capabilities, delivers astonishing performance for all outdoor enthusiasts who seek adventure and are looking for a unique experience that lasts a lifetime. From campers, bikers, snowboarders, mountaineers, and skiers to everything in between, the Packsture jacket is a piece of gear that is a must for everyone.
The newly unveiled Packsture Jacket features a lightweight and highly durable 3M™ Thinsulate™ Pro Jacket design that is waterproof, breathable, and windproof for maximum protection. With an elegant and clean design, the Jacket comes with 50 ambitious features and capabilities that cover the most sought after details. The Packsture Jacket will delight adventurers and athletes alike around the world.
"Immediately when you see the Packsture Jacket, you fall in love with it, no doubt! It's an amazing piece of gear and there is nothing like it!" commented John El Hanafi, Marketing Director for Packsture.
Available exclusively on Kickstarter, starting February 5, 2019. Get it here: https://kck.st/2GcMl6v
It is made with taped seams, an under arm mesh lined ventilation system, removable snow skirt, helmet compatible detachable hood, anti-slip shoulders, added thumb holes for warmth, and multiple pockets for ski passes, phones, tablets, Snowboarding goggles, passport, and power bank, plus other features that make the Packsture Jacket multifunctional, safe, durable, and the most sought after design in the world. The Packsture jacket endures extreme cold temperatures and will protect you up to -20 °C (-4 °F).
The jacket also comes with many safety features such as safety reflectors, an outdoor whistle for survival, a compass, keychain and a bottle opener.
ABOUT PACKSTURE
Founded in 2017 by a team of outdoor devotees, Packsture was established with the goal to deliver top-notch quality products for all outdoor enthusiasts around the world. With years of experience in the outdoor equipment industry, the Packsture team shares a passion for the great outdoors. Giving back to the community and sharing with those who are less fortunate is their mission. Over the years, Packsture has contributed to communities, cooked for homeless shelters, helped alleviate poverty across the globe through small loan applications, shipped medications and clothing to Africa, supported our troops at home and in Afghanistan, and helped veterans at home in various ways. Join Packsture and be part of their quickly growing family. https://packsture.com/