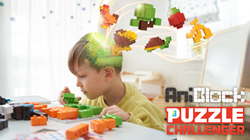 The block shape helps kids understand volumes better, and encourages them to develop critical thinking skills by looking at complex positive and negative forms using the pixel rather than simply fitting a triangular piece into a triangular hole, as most puzzles for kids do.
SUNNYVALE, Calif. (PRWEB) January 08, 2020
Pacoware Inc. has announced that they have surpassed their initial Kickstarter funding goal for its newest puzzle, Aniblock Puzzle Challenger.
Designed as a much more modern and minimal take on jigsaw puzzles, the Aniblock Puzzle Challenger helps children learn problem-solving while also teaching them critical thinking as well as abstract visualization. Rather than put together shapes in a predefined pattern to create a picture, the Aniblock Puzzle Challenger uses the same block-shaped pieces to create new puzzles each time.
The same blocks form new shapes when arranged differently, allowing kids to use the same tools in different ways. Unlike jigsaw puzzles that have a fixed single way of completing the puzzle, the AniBlocks have multiple solutions to the same problem, allowing children to explore new ways to complete the puzzle each time and approach a solution through multiple directions.
The Aniblock Puzzle Challenger comes with a set of twelve boards along with block pieces of different colors. The boards feature pixelated designs while the blocks nest right into the board, using a set of plus sign shaped grooves. The blocks even nest one upon the other, allowing the exploration of the third dimension as well, for kids looking to explore more complex visualizations.
An activity book helps keep children engaged and entertained by providing clues and allowing the kids to document their process. The Aniblock Puzzle Challenger also comes with an iOS and Android app that allows kids to play with virtual Aniblocks on a screen with a variety of new puzzles.
For learn more about Aniblock Puzzle Challenger, please visit its Kickstarter page. Any journalists or influencers interested in receiving a sample for review are also encouraged to reach out to Pacoware Inc, via its Kickstarter page.