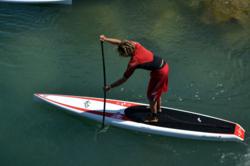 Jimmy is offering $400 off his best selling race boards inviting everyone to upgrade
Maui, Hawaii (PRWEB) July 05, 2013
SUP racing is the fastest growing segment of the sport and prices for race boards have been going through the roof. While cheap paddleboards can sell for under $1000 and a premium paddleboard is normally worth around $1600, some race boards have been selling for over $4000. Why is there such a price disparity and is there a real demand or necessity for an overpriced board?
Ken Russell is a race organizer and co-owner of Fuacata Sports which distributes Jimmy Lewis boards. "Overpriced race boards are using carbon fiber or hollow cores to shed a few pounds. Unfortunately, these boards are very fragile. Jimmy Lewis produces high end race boards that have proven themselves on the podium many times. More importantly, they take a beating and last for years, and they are under $2000. In an effort to invite new paddlers to get into racing, and existing paddlers to upgrade their boards, we're now offering The Jimmy Lewis Summer Race Sale: $400 off the 12'6 Jimmy Lewis Slice and the 12'6 Jimmy Lewis Blade for a limited time."
Jimmy Lewis has made the 12'6 open water Slice and the 12'6 flat water Blade II to prove that a very fast board can be stable and strong and affordable. He does so with 45 years of shaping experience and his Signature I-Beam Construction, the perfect ratio of strength to weight. In its debut season, the Slice won first place in more than 15 races in a row.
Although Jimmy is well known for his high end boards and even holds the title of most expensive paddleboard ever sold at auction ($23,500 for one board), his Slice and Blade race boards are now $400 off the normal $1999 pricetag for a limited time.
Maui-based Jimmy Lewis has been shaping surfboards since 1969 and distributes his premium line of boards through 120 dealers in the US Mainland.