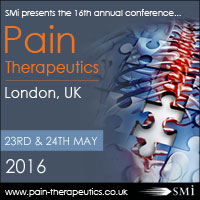 "Capturing the latest developments and innovations to accelerate market access" SMi Group Ltd
London, England (PRWEB UK) 22 February 2016
SMi's long running Pain Therapeutics conference returns to Central London this May for its 16th annual instalment. With a focus on showcasing the latest clinical advancements in drug therapy, the agenda for 2016 will feature a special address from University College London following on from their recent study, which revealed that blocking the stress protein in mice reduced chronic pain. These medical findings will offer new targets for future pain treatments.*
The presentation will be delivered by the Chair of Clinical Neurophysiology at UCL, Martin Koltzenberg. Spotlighting on translational biomarkers, Dr Koltzenberg will provide updates into nerve excitability profiling (NEP) and its use in studying ion, potassium and different subtypes of sodium channels in rodents and primates, including humans in vivo and in vitro. Highlights will include insight into the controlling of the excitability of peripheral nerves; potential propagation in different subtypes of sensory neurons; the firing pattern of exons; and sodium channel blockers.
The show will aim to hone in on the latest innovations and novel approaches to pain therapy and analgesic drugs as well as look at the practicalities of using animal models and translational biomarkers in pain research. Targeting an audience of senior specialists in neurology, CNS, clinical sciences and pharmacology, Pain Therapeutics 2016 will keep attendees at the forefront of scientific breakthroughs to adapt to the growing need towards minimising opioid dependency and new drug discovery.
Other featured speakers at Pain Therapeutics 2016 will include:

Andrea Houghton, Executive Director, MSD (Merck & Co Within The Usa)
Catherine Stehman-Breen, VP Clinical Sciences, Regeneron Pharmaceuticals Inc
Stephen Doberstein, Senior Vice President & Chief Scientific Officer, Nektar Therapeutics
Thomas Christoph, Senior Director, Head Of Pain Pharmacology, Grunenthal GmbH
Richard Butt, Senior Director, Research Project Leader, Clinical Research, Pfizer
Shaloo Pandhi, Global Program Medical Director, Novartis
Neelima Khairatkar Joshi, Senior Vice President, Glenmark Pharmaceuticals
Chao Chen, Therapy Area Head, GlaxoSmithKline
Steven Kamerling, Therapeutic Area Head for Pain, Inflammation and Oncology, Zoetis
Dr Ozgur Sancak, Global Medical Science Lead - Pain, Reckitt Benckiser
A full speaker line-up and detailed conference agenda is available online at http://www.pain-therapeutics.com
With recent team bookings from GSK, Ethypharmrt, RB and Mundipharma, the event is already attracting big names in the pharmaceutical industry and early indications predict it will be SMi's most successful Pain conference to date.
For those who are looking to attend, there is currently a £400 earlybird saving online that expires on 29th February.
16th Annual Pain Therapeutics Conference
23 - 24 May 2016
Holiday Inn Kensington Forum, London UK
Sponsored by Cellectricon AB, CHDR (Centre for Human Drug Research) and MD Biosciences
http://www.pain-therapeutics.co.uk
---end---
About SMi Group:
Established since 1993, the SMi Group is a global event-production company that specializes in Business-to-Business Conferences, Workshops, Masterclasses and online Communities. We create and deliver events in the Defence, Security, Energy, Utilities, Finance and Pharmaceutical industries. We pride ourselves on having access to the world's most forward thinking opinion leaders and visionaries, allowing us to bring our communities together to Learn, Engage, Share and Network. More information can be found at http://www.smi-online.co.uk