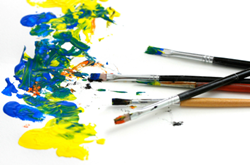 Since 2010, The Virtual Instructor has helped artists from around the world to improve their painting skills through easy-to-understand lessons for all levels
OVERLAND PARK, Kan. (PRWEB) November 16, 2020
Painting Lessons Company Brushes Away the Competition with Top Award from TopConsumerReviews.com
Painting is not just a terrific ability to have but can also serve as a therapeutic respite from the stresses of the world - just think Bob Ross and his "happy little trees". Unfortunately, finding in-person painting lessons often gets in the way of eager students who are trying to increase their skills: fitting the instruction into their schedules and budgets can be almost insurmountable when only considering local teachers and classes. On the other hand, there are a wide range of reliable, deeply detailed Painting Lessons available online, making it possible to work with watercolors, experiment with acrylics, or dabble in oil paints whenever the mood strikes. Prospective artists should consider each provider of Painting Lessons carefully, perhaps even previewing any available video clips or materials, to ensure that the instruction style and pace are a good fit for their own learning preferences.
"Since 2010, The Virtual Instructor has helped artists from around the world to improve their painting skills through easy-to-understand lessons for all levels," explained Brian Dolezal of TopConsumerReviews.com, LLC. "With more than 1,000 video lessons ranging from beginner to advanced, students will have no problem finding exactly what they need to improve their painting abilities. Mediums covered include graphite, pastels, oils, watercolor, and beyond, with subjects like portraits and landscape mastery. You might expect such comprehensive instruction to be prohibitively expensive, but with a $1 7-day trial and an extremely affordable monthly price of just $19, it's hard to imagine anyone that couldn't manage that small cost for top-quality Painting Lessons. But, if you should give The Virtual Instructor a try and decide it's not to your liking, you're covered by a 30-day money-back guarantee. You just won't find a more budget-friendly and easy-to-follow platform offering Painting Lessons anywhere else. It is our pleasure to name The Virtual Instructor as our most recent first-place winner among online providers of Painting Lessons in 2020."
To find out more about The Virtual Instructor and other providers of Painting Lessons, including reviews and comparison rankings, please visit the Painting Lessons category of TopConsumerReviews.com at https://www.topconsumerreviews.com/painting-lessons/.
About The Virtual Instructor
The Virtual Instructor began as a simple idea - a website to store videos for art students. It quickly grew as teachers and students from all over the world began to use it. The creator of The Virtual Instructor continued to add lessons and videos and after a year the first course (The Secrets to Drawing) and the membership program were added. Today, the site has helped people from all over the globe explore their creativity. Over 23,000 people have been a part of the membership program with millions visiting the site each year.
About TopConsumerReviews.com
TopConsumerReviews.com, LLC is a leading provider of reviews and rankings for thousands of consumer products and services. From Painting Lessons to Canvas Prints and Ballroom Dancing, TopConsumerReviews.com delivers in-depth product evaluations in order to make purchasing decisions easier.