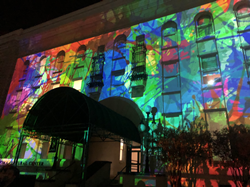 PENSACOLA, Fla. (PRWEB) November 12, 2021
3D projection mapping experts Paintscaping, Inc. will be illuminating two buildings at once for the Pensacola Little Theatre on the concluding days of Pensacola, Florida's 2021 Foo Foo Festival.
Featuring live actors in addition to exciting 3D projection mapping elements, Paintscaping's "A Celebration of Art" show will be using both the Pensacola Cultural Center and the Museum of Art as gigantic canvasses for their stirring production. This will be Paintscaping's exciting return to Foo Foo Festival, a free, outdoor extravaganza showcasing local artists, live singers and musicians.
"A Celebration of Art" will premiere Friday, November 12th, 2021 and will run every night until Sunday, November 14th.
About PaintScaping
PaintScaping is the industry leader in 3D mapping. Founded in 2009 by Philippe Bergeron, the Los Angeles-based company has produced unique 3D mapping shows across the U.S. including Orlando, Los Angeles, Las Vegas, New York, and Chicago, and many places around the world. Among its many clients are MGM Resorts, Ritz-Carlton, Sony Pictures, Westin Hotels, Caruso, and Cirque du Soleil. It holds many records in the mapping world. The most viewed mapping ever on YouTube. The biggest USA mapping ever. And the longest throw ever at 1.1 km.
For our latest reel, visit:
https://www.paintscaping.com/reel
For high-rez photos, visit:
https://www.paintscaping.com
And right-click on thumbnails to download.
Philippe Bergeron is available for interviews. Video and photos are also available on request.