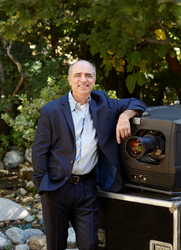 "Creating a show for CTN is like walking into the lion's den, but we'll be up to the challenge," - Philippe Bergeron, CEO of PaintScaping
LOS ANGELES (PRWEB) November 14, 2018
PaintScaping, a world leader in 3D projection mapping, will present a 3D mapping for the opening and closing nights of CTN Expo, the world's largest conference on animation. The Expo will take place from November 15 to 18, 2018, at the Los Angeles Marriott Burbank Airport.
CTN celebrates both the traditional and digital worlds of animation. Now in its tenth year, the Expo, hosted by The Creative Talent Network®, has captured both the industry and local community's attention as a great resource for animators.
Tina Price, the creator of CTN Expo, knew that wowing her guests – industry leaders in animation – would be no easy task. So she reached out to the one person she knew that could get the job done - Philippe Bergeron, CEO, and President of PaintScaping, an LA-based projection mapping powerhouse, founded in 2009.
Bergeron is familiar in the animation community as the co-director of the groundbreaking short "Tony de Peltrie." The film featured the world's first CG human to express emotion. It was hailed by Time Magazine as a "breakthrough." Bergeron's participation at CTN Expo finds him working along-side his peers once again, this time as a 3D mapper.
LA-based PaintScaping has produced a number of high-end mappings, including the recent mega-projection for Britney Spears at Park MGM in Las Vegas, and the Rihanna/Calvin Harris music video "This Is What You Came For." At over 2 billion views, it is the most watched mapping ever on YouTube.
But despite these high profile successes, CTN has a special place in Bergeron's heart. "Creating a show for CTN is like walking into the lion's den, but we'll be up to the challenge," concludes Bergeron with a smile.
To see more of PaintScaping 3D Projection Design projects, visit http://paintscaping.com.
To learn more about The CTN Expo, visit: https://www.ctnanimationexpo.com
-------------------------------------------------
About Philippe Bergeron
Philippe Bergeron is founder and CEO of PaintScaping, a global leader in 3D projection mapping. PaintScaping has done mapping in the USA, Mexico, Canada, France, Ireland, and South Africa. Bergeron, a native of Montreal with a B.S. and M.S. degree in computer science from the University of Montreal, remains a 3D mapping innovator and invited presenter for numerous industry events.
About PaintScaping
PaintScaping is the industry leader in 3D mapping. Founded in 2009 by Philippe Bergeron, the Los Angeles-based company has produced unique 3D mapping shows across the U.S. including Orlando, Los Angeles, Las Vegas, New York, and Chicago, and many places around the world. Among its many clients are MGM Resorts, Ritz-Carlton, Sony Pictures, Westin Hotels, Caruso Affiliated, and Cirque du Soleil.
Philippe Bergeron is available for interviews.
Video and photos are also available on request.
Media Contact:
[Alicia Bennett]: +310 988 9763 or marketing@paintscaping.com