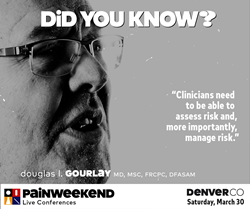 ...it is important that providers take steps to stay current on the legal and regulatory environment that may affect their practice and their patients.
MONTCLAIR, N.J. (PRWEB) February 28, 2019
PAINWeekEnd on March 30 at the DoubleTree by Hilton Hotel Denver Tech Center, 7801 E Orchard Rd, in Greenwood Village, Colorado, will be a timely and relevant program providing busy clinicians and allied healthcare practitioners with 6.0 hours of practical instruction in the management of chronic pain.
On January 1, 2019, a regulation implementing House Bill 18-1007 went into effect in Colorado that expands access to medication assisted treatment (MAT) for substance use disorder, part of the state's effort to go beyond prescribing limitations in its response to the crisis of opioid misuse. It requires individual and group health plans to provide a 5-day supply of at least one FDA-approved drug for MAT without prior authorization for the first request in a 12-month period, to respond with a coverage determination within 24 hours, and to expedite the appeals process for patients who are denied. Senior faculty member Jennifer Bolen, JD, is the founder of The Legal Side of Pain, Knoxville, Tennessee. She observed, "As payor policies for treatment continue to evolve, it is important that providers take steps to stay current on the legal and regulatory environment that may affect their practice and their patients. To that end, I look forward to helping PAINWeekEnd attendees understand medical necessity for substance abuse treatment, drug testing, and prescribing controlled medications." Attorney Bolen will present 2 courses at PAINWeekEnd Denver, Get Your Specimens in Order: Timely Use of Test Results, and Embrace Changes and Prevent Overdose: A Basic Blueprint for Legal Risk Mitigation and Response.
Other courses will include Rational Polypharmacy: An Update for Specific Conditions; Involuntary Tapers: Legal, Ethical, and Clinical Concerns; Lost in Translation: Making Sense of Clinical Treatment Guidelines; and Cannabis vs Cannabinoids: The Politics of Medical Marijuana.
Commercially supported activities—addressing a range of product, disease state, and medical information topics—will also be presented.
For more information about this or other regional conferences, and to register for $199, go to the PAINWeekEnd website. BONUS: PAINWeekEnd registrants may register for the 2019 PAINWeek National Conference, September 3-7, in Las Vegas, for $200 off the regular online published price.
PAINWeekEnd is provided by Global Education Group. About Global Education Group:
Global Education Group focuses on producing partnership-based CME for healthcare practitioners. The Global team works with a select group of medical education companies, associations, academic institutions and healthcare facilities to develop and accredit live healthcare conferences and workshops as well as online activities. With each partnership or joint providership, Global brings accreditation expertise, project management excellence and grant funding intelligence. Based in Littleton, Colo., Global has accreditation with commendation from the ACCME. Global also holds accreditations to offer continuing education for nurses, nurse practitioners, pharmacists, dietitians, dentists and psychologists. Global is a division of Ultimate Medical Academy.