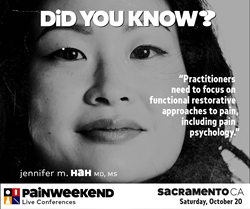 Psychology has a well-established role in the treatment of pain conditions, but familiarity with the range of pain related interventions varies widely among practitioners.
MONTCLAIR, N.J. (PRWEB) September 25, 2018
PAINWeekEnd on October 20 at the Hilton Sacramento Arden West, 2200 Harvard Street, in California, will be an educational and exciting program providing busy clinicians and allied healthcare practitioners with 6.0 hours of relevant, practical instruction in the management of chronic pain.
The Medical Board of California requires 50 CME hours in MD AMA PRA Category 1™ credits and 50 MD CME hours every 2 years. A one-time requirement of 12 hours of CME in pain management and treatment of terminally ill and dying patients must be finished before the second license renewal date or within four years, whichever occurs first. As the epidemic of opioid abuse, misuse, and diversion becomes more pervasive and concerning, there has been increasing interest among clinicians, patients, and payers in nonpharmacologic options to manage pain. At PAINWeekEnd Sacramento, Ravi Prasad, PhD, will present The Psychology Toolbox: Evidence Based Treatments for Pain Management, explaining the role of psychology in pain treatment and reviewing some evidence based interventions to assist this clinical population. Dr. Prasad commented, "Psychology has a well-established role in the treatment of pain conditions, but familiarity with the range of pain related interventions varies widely among practitioners. In this session, we'll review cognitive behavioral therapy based interventions, the most frequently studied and applied paradigms, as well as some lesser known treatment modalities including biofeedback training, mindfulness based stress reduction, and acceptance and commitment therapy." Dr. Prasad will also discuss the role of interdisciplinary treatment programs in facilitating opioid cessation while improving patients' functional outcomes in his course Crisis=Opportunity: Reducing Medication Burden While Managing Chronic Pain.
Other courses to be offered at PAINWeekEnd Sacramento include Recent Advances in Opioid Abuse Deterrent Formulations; Interdisciplinary Management of Pelvic Pain: Bridging the Gap Between Primary Care and Specialty Referral; Multidisciplinary Pain Management: Complex Cases; and Policies and Practicalities: Focusing on the Patient, Not the Opioid.
Commercially supported activities, addressing a range of product, disease state, and medical information topics, will also be presented.
For more information about this or other regional conferences, and to register for $129, go to the PAINWeekEnd website. BONUS: PAINWeekEnd registrants may register for the 2019 PAINWeek National Conference, September 3-7, in Las Vegas, for $200 off the regular online published price.
PAINWeekEnd is provided by Global Education Group.
About Global Education Group:
Global Education Group focuses on producing partnership-based CME for healthcare practitioners. The Global team works with a select group of medical education companies, associations, academic institutions and healthcare facilities to develop and accredit live healthcare conferences and workshops as well as online activities. With each partnership or joint providership, Global brings accreditation expertise, project management excellence and grant funding intelligence. Based in Littleton, Colo., Global has accreditation with commendation from the ACCME. Global also holds accreditations to offer continuing education for nurses, nurse practitioners, pharmacists, dietitians, dentists and psychologists. Global is a division of Ultimate Medical Academy.