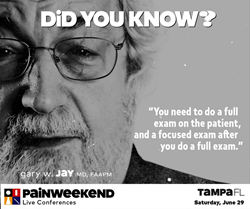 prescribers are under the microscope regarding selection of opioid and dose as well as clinical documentation... [PAINWeekEnd} will review different patient situations and discuss when to taper or discontinue opioids and how to implement the change in opioid therapy
MONTCLAIR, N.J. (PRWEB) June 04, 2019
PAINWeekEnd on June 29 at the Renaissance Tampa International Plaza Hotel, 4200 Jim Walter Blvd in Florida, will be a timely full day program providing busy clinicians and allied healthcare practitioners with 6.0 hours of relevant, practical instruction in the management of chronic pain. [Please note: Practitioners are responsible for contacting their relevant state boards to see if PAINWeekEnd courses meet the necessary requirements for CME credits.]
Florida's Controlled Substances Bill, containing a range of provisions to address the opioid public health crisis in the state, became effective last year. Concern over balancing regulation of opioid prescribing with addressing the interests of patients with pain led the Florida Department of Health to launch an information campaign subsequent to the bill's enactment. A press release announcing the "Take Control" campaign said in part, "The department encourages patients to discuss all options with their treating physician, so they may work together to pursue a course of treatment which manages their pain, anxiety, and provides quality of life." The PAINWeekEnd curriculum is designed to enhance the readiness of primary care providers to devise and implement multimodal approaches to pain management. "We will combat opiate addiction at the source—the prescription pad." In light of these new requirements, clinician skills in opioid tapering are increasingly important, and the topic will be addressed at PAINWeekEnd Tampa by Courtney Kominek, PharmD, BCPS, CPE, in her course Walking the Line: Opioid Dose De-Escalation. "Now, more than ever, prescribers are under the microscope regarding selection of opioid and dose as well as clinical documentation and appropriate action based on findings during the patient visit," Dr. Kominek observed. "This course will review different patient situations and discuss when to taper or discontinue opioids and how to implement the change in opioid therapy." Dr. Kominek will also present What's All the "GABA" About? Pregabalin and Gabapentin Abuse.
Other courses to be offered at PAINWeekEnd Tampa include Year of the Locusts: The CDC Guidelines Impact on Practitioners and Patients; Opioid Moderatism and Rapprochement: The Search for a Sane Middle Ground; Migraines and More; and Reefer Madness Revisited. Commercially supported activities—addressing a range of product, disease state, and medical information topics—will also be presented.
For more information about this or other regional conferences, and to register for $129, go to the PAINWeekEnd website. BONUS: PAINWeekEnd registrants may register for the 2019 PAINWeek National Conference, September 3-7, in Las Vegas, for $200 off the regular online published price.
PAINWeekEnd is provided by Global Education Group. About Global Education Group:
Global Education Group focuses on producing partnership-based CME for healthcare practitioners. The Global team works with a select group of medical education companies, associations, academic institutions and healthcare facilities to develop and accredit live healthcare conferences and workshops as well as online activities. With each partnership or joint providership, Global brings accreditation expertise, project management excellence and grant funding intelligence. Based in Littleton, Colo., Global has accreditation with commendation from the ACCME. Global also holds accreditations to offer continuing education for nurses, nurse practitioners, pharmacists, dietitians, dentists and psychologists. Global is a division of Ultimate Medical Academy.