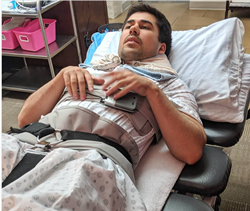 EDMONTON, Alberta (PRWEB) April 06, 2021
PainWorth—one of 15 winners at the 2021 American Bar Association TechShow—announced today the acquisition of California-based legal-tech company ProSe Claims.
PainWorth has already been turning heads by revolutionizing the claims process for claimants, insurance companies, and lawyers.
The free-to-use PainWorth app makes it possible for injury claimants to easily find out—on their own—what their claim might be worth. Users who choose to self-represent can even use the app to generate the paperwork they need to start their settlement process.
PainWorth's secret ingredient is its algorithm that automatically scans thousands of past cases to find relevant case law and citations. It then performs all the necessary statistical calculations and arithmetic in seconds—a process that typically takes human economists, claims adjusters, and lawyers dozens of hours.
Indeed, in a recent industry interview, one insurance insider declared that PainWorth was "the future of claims settlement."
Mike Zouhri—who co-founded PainWorth after being struck by a drunk driver in 2019—is thrilled to finally announce the acquisition:
"While we've been working to address access-to-justice problems in Canada, ProSe Claims has been tackling very similar problems in the United States. We've been chatting with them for quite some time, and they really believe—just as we do—that the legal system is broken and incredibly slow at delivering justice."
In addition to acquiring the assets of ProSe Claims, key members of the ProSe Claims team will also be joining PainWorth.
For example, ProSe Claims Co-Founder and CEO, Justin MacFayden, will be bringing his American legal experience to the PainWorth team.
"It was just a natural fit," said MacFayden. "The PainWorth team has built an elegant, easy-to-use app to help resolve a very real access-to-justice problem. Their app is free-to-use for claimants, greatly reduces time and labour costs for lawyers and insurance companies alike, and—better yet—it greatly speeds up the settlement process. Working together, we can now start to adapt the PainWorth app to the USA and to American legislation, and—in so doing—help more people than ever before. It's no secret that Americans pay the highest medical costs in the world, so an app like PainWorth is urgently needed in the United States to help those involved in car accidents, medical malpractice suits, or even assault and battery cases."
Hot on the heels of its acquisition of ProSe Claims, PainWorth will next appear at the 2021 edition of InsureTech North on April 22-23. There, they will be offering demonstrations of their soon-to-be-unveiled "Pro Portal" app for insurance companies and claims adjusters.
Following this, the next steps on PainWorth's roadmap will be an official entry into the US market and pursuing investors for a seed round to fund future expansion and product offerings.
"We believe that there are still some major issues to tackle in the global justice system," said Zouhri. "And so we're aiming—with technology—to solve those problems now and into the future. Our goal is simple: we want to democratize and modernize a slow, biased, and antiquated justice system. We want everybody to be able to get justice, regardless of their age, sex, race, or economic situation."
For more information about Painworth visit: https://painworth.com/