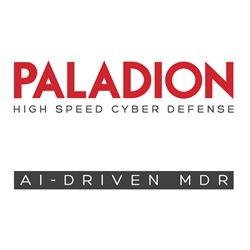 Our MDR solution stands out from the competition by utilizing key AI-Driven insights to detect threats before they become a breach.
RESTON, Va. (PRWEB) January 22, 2020
Paladion, a global leader in AI-Driven Managed Detection and Response, today announced that it has been selected as the cybersecurity provider of choice by a leading financial services company in the Caribbean. Paladion was chosen to implement its Managed Detection and Response (MDR) solution for the company, which provides many financial services to its members, including loans, mortgages, credit cards, merchant services, and more.
For companies in the financial services industry, cybersecurity is a top priority. As security threats become more advanced and challenging to detect, more companies are looking for better solutions to keep their data secure.
"Our focus at Paladion is to provide the best possible cybersecurity for our clients," said Rajat Mohanty, CEO at Paladion. "Our MDR solution stands out from the competition by utilizing key AI-Driven insights to detect threats before they become a breach. This proactive model allows companies to investigate, auto-contain threats, and orchestrate a response before a catastrophic security breach can occur."
Paladion's MDR solution provides threat intelligence, threat hunting, security monitoring, incident analysis, auto containment, and incident response. It goes beyond traditional security monitoring to analyze critical data, including endpoints, user behavior, application, and network.
The benefits of this next-generation solution include:

Threat anticipation: Anticipate potential threats in advance using contextualized data
Threat hunting: Identify and hunt stealth attack campaigns before they can cause a breach using AI-driven insights
Security monitoring: Monitor and protect your systems in real-time from known and current attacks.
Incident analysis: React to individual needs of a company based on high-level insights and industry trends
Auto containment: Machine learning algorithms allow you to contain attacks in minutes, not days.
Response orchestration: Evict attackers, eradicate threats, and advance your defenses faster.
"Our AI-Driven MDR solutions enable businesses to stay one step ahead of security threats," said Mohanty. "We value each of our clients and continue to work to ensure that they can avoid security breaches and can instead focus on the services they provide without worrying about security threats."
For more information about Paladion's client partnerships and its Managed Detection and Response solution, contact us here.
About Paladion:
Paladion is a next-generation cybersecurity provider to technology, manufacturing, and cloud-first companies across the United States. They are consistently recognized and rated by independent technology advisory firms for their Managed Detection and Response Services, Cloud security, and Vulnerability Management & Response services, which is anchored by their patented Artificial Intelligence platform – AI.saac.
For more information, please visit https://www.paladion.net.