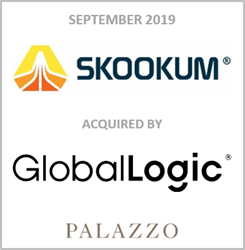 NEW YORK (PRWEB) September 12, 2019
PALAZZO is pleased to announce it has served as exclusive financial advisor to Skookum, an innovative digital strategy, design, and development firm, on its sale to GlobalLogic, a leading digital product engineering company. This transaction exemplifies PALAZZO's position as a preeminent M&A advisor to business owners across the rapidly growing digital transformation services landscape.
Headquartered in Charlotte, North Carolina with a presence in Denver, Colorado, Skookum has been solving customer challenges through the use of innovative digital technology since its founding in 2005. The company's leadership successfully developed an open employee culture designed to inspire creativity and innovative thinking. As a result, Skookum's talented strategists, designers, and engineers are known to deploy intelligent design-led solutions that enable business growth – whether mapping out inclusive end-to-end customer journeys, developing custom software applications, or bringing to life engaging user experiences.
GlobalLogic is a leader in digital product engineering, helping clients design and build innovative products, platforms, and digital experiences for the modern world. Headquartered in Silicon Valley, GlobalLogic operates design studios and engineering centers around the world, extending its deep expertise to customers across a wide range of industry sectors.
Skookum's core offerings directly complement GlobalLogic's existing portfolio of services, composed of complex software engineering, and strategic design capabilities used to drive cross-industry digital transformation. Further, the acquisition strengthens GlobalLogic's position in desirable technology hubs in the eastern and western U.S. geographies – improving proximity to clients and increasing access to local talent.
Nitesh Banga, COO of GlobalLogic, stated, "The adoption rate of transformative digital solutions is only accelerating. Leveraging that momentum, we are keenly focused on continually expanding our transformative design and engineering services footprint in key regions. The acquisition of Skookum fits our strategy and ambitions perfectly. We are very excited by Skookum's culture, value proposition, and the ability to partner closely with customers to deliver game-changing solutions."
"By pairing our creative strategy, design, and engineering methods with GlobalLogic's deep relationships, wide reach, and strong engineering ethos, Skookum gains an incredible opportunity to reach a whole new customer set," added Joe Ryan, President of Skookum. "We're proud of the open, experimental environment we've created that empowers our teams to develop powerful digital solutions for some of the country's biggest brands. And, now we will be able to bring even greater value to the market through the integration of our capabilities with those of GlobalLogic's."
Matt Hasson, Managing Director of PALAZZO, remarked on the transaction, "With a first-rate talent pool and expansive digital strategy, design, and technology capabilities, Skookum has garnered a stellar reputation as the partner-of-choice for many enterprise clients seeking to evolve and accelerate growth through digital transformation. This transaction is one of significant strategic importance for both Skookum and GlobalLogic. We are truly honored that the Skookum team placed their faith and trust in PALAZZO, and equally delighted to have assisted in delivering a successful outcome for the shareholders and employees."
On working with PALAZZO, Skookum's co-founder James Hartsell expressed, "The PALAZZO team worked at breakneck speed to get us to market in record time. Their understanding of digital transformation services and knowledge of market dynamics enabled them to instantly connect with Skookum's unique value proposition and quickly map the entire universe of potential buyers. The sale process they managed was intensely competitive, which drove a great outcome for Skookum's shareholders and a perfect strategic fit for GlobalLogic. We are grateful for PALAZZO's expertise and counsel throughout the process, and for their unrelenting determination to deliver a successful exit for the founders and find a great home for our company. I can't imagine any other advisor working harder or caring more than PALAZZO does about their clients' success."
Terms of the transaction were not disclosed. Under the agreement, Skookum will continue to operate with its existing leadership and staff as a wholly owned subsidiary of GlobalLogic.
About PALAZZO
PALAZZO is New York City-based investment bank that provides M&A advisory, capital raising, and strategic advisory services to entrepreneurs/founders, private equity firms, and strategic acquirers in the marketing services, consulting services, media, and technology sectors. Founded in 2009, PALAZZO has played an integral role in industry-defining transactions, becoming the leading investment bank in the sectors it covers. http://www.palazzonyc.com