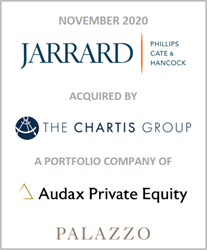 NEW YORK (PRWEB) November 18, 2020
PALAZZO is pleased to announce it has served as exclusive financial advisor to Jarrard Phillips Cate & Hancock ("Jarrard"), a Nashville-based strategic communications and change management firm serving the healthcare industry, on its sale to The Chartis Group ("Chartis"), a leading healthcare advisory and analytics firm and a portfolio company of Audax Private Equity.
Founded in 2006, award-winning Jarrard ranks among the top 10 healthcare communications firms in the nation. Specializing in areas such as issue navigation, transformation adoption, change management, strategic positioning, and M&A, Jarrard has served more than 500 healthcare provider clients.
Jarrard joins Chartis at a time of great promise and challenge in the nation's healthcare delivery landscape. U.S. hospitals, health systems, and other providers are confronted with dynamic operational, clinical, and financial challenges while simultaneously being presented with unlimited opportunities for disruption and innovation. In both cases, organizations are facing the need to evolve and continue to grow and transform – which requires not only new strategic, clinical, digital, and operating models – but also the ability to ensure their effective implementation and adoption. To that end, Jarrard brings great complementary strengths to Chartis.
"The power of what our two organizations can do together to help clients fully achieve their strategic and operational objectives could not be greater," said Ken Graboys, CEO of The Chartis Group. "We believe successful, sustainable transformation requires effective change management and communications. By partnering with Jarrard, we can more effectively deliver results for our clients and the healthcare industry at large."
"We are combining the power of effective communications with the exceptional strategic, financial, technological, and operational expertise of Chartis," said David Jarrard, CEO of Jarrard. "We are bringing together the art and the science of change to a rapidly-evolving industry and in service to a mission – shared by both organizations – to work to make healthcare better."
The acquisition of Jarrard furthers Chartis' commitment to providing U.S. healthcare providers best-in-class advisory capabilities. Under the partnership, like other sister companies, Jarrard retains its brand, culture, leadership, and approach to client service, while being augmented by the expertise and resources of Chartis.
Matt Hasson, Managing Director of PALAZZO, remarked on the transaction, "Jarrard is among the best in the business when it comes to advising healthcare providers on important strategic internal/external communications and change management initiatives. Inasmuch as the Jarrard and Chartis offerings are highly complementary, the businesses are also very much aligned with respect to their overarching missions of helping healthcare provider clients navigate the complexities of an ever-changing healthcare environment. On behalf of PALAZZO, it has been a pleasure and a privilege to work with the Jarrard team on this successful transaction, and we wish them all the best in this exciting new partnership with Chartis."
On working with PALAZZO, David Jarrard expressed, "We needed expert advisors who we could trust to not only guide us through the transaction, but also to translate the intricacies of the process so we could make thoughtful, informed, confident decisions at every milestone. The PALAZZO team were valuable partners to us in what was easily one of the most important decisions in the life of our firm."
Terms of the transaction were not disclosed. Under the agreement, Jarrard will continue to operate with its existing leadership and staff as a wholly owned subsidiary of Chartis.
About PALAZZO
PALAZZO is a New York City-based investment bank that provides M&A advisory, capital raising, and strategic advisory services to entrepreneurs/founders, private equity firms, and strategic acquirers in the marketing services, consulting services, media, and technology sectors. Founded in 2009, PALAZZO has played an integral role in industry-defining transactions, becoming the leading investment bank in the sectors it covers. http://www.palazzonyc.com