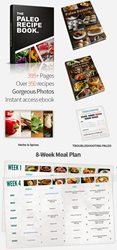 The dishes are presented beautifully and the photos capture them really well...
West Palm Beach, FL (PRWEB) April 30, 2014
The Paleo Diet (aka The Caveman Diet) is a nutritional plan inspired by the Paleolithic era that has been gaining in popularity for a few years now. The Paleo Recipe Book is a cookbook with over 350 paleo recipes that claims users won't ever run out of healthy and delicious meal ideas. The book has become a bestseller and was even named by some bloggers as the best paleo cookbook around, prompting RequestedReviews.com's Laura O'Connor to take a closer look.
O'Connor dug up some background on the creators of the book. "The Paleo Recipe Book is presented by a popular website called 'Paleo Leap', but its author is Sebastien Noel, who is described as a nutrition enthusiast," O'Connor writes. Noel shares that when he was younger, he suffered from health problems such as severe migraines. He experimented with various solutions, including a raw vegan diet, but nothing made him better until he committed to a Paleo diet plan. He created a website called PaleoDietLifestyle.com, which recently became Paleo Leap.
Exploring the product, O'Connor found that one of its winning qualities is the highly professional food presentation. "The dishes are presented beautifully and the photos capture them really well," she says. "Having the meals look so appetizing is, I think, one key to help people stick to this diet."
She also praises the 8-week Paleo meal plan, explaining, "It can be tricky to think of what to prepare next, especially if your diet limits the ingredients you can use. The meal plans eliminate that difficulty and help you stay on track."
The Paleo diet meal plans come as a bonus with the main quick-access recipe e-book. Other bonuses are books on desserts, quick & simple paleo recipes, and herbs & spices, plus a diet troubleshooting cheat sheet. There's also a 100% money-back guarantee.
O'Connor however recognizes that there are limitations to the book. "As expected, the cookbook and meal plans avoid certain foods, and among them are staples like grains and dairy. Dieters may need a fair amount of adjustment, especially those who are new to the Paleo world." She adds that a diet introduction is needed to ease into these recipes and menus.
In the end, O'Connor concludes that The Paleo Recipe Book and Meal Plan are a wonderful resource for Paleo dieters who are either currently on or are thinking about going on the popular diet. "I can certainly see why this paleo cook book is a bestseller and I'll be recommending it to my readers." she concludes.