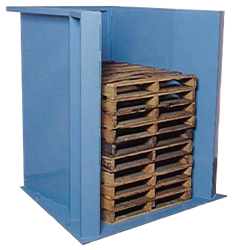 Springfield, MO (PRWEB) February 27, 2014
Springfield, MO based Yarbrough Industries has announced two new additions to their line of pallet dispenser handling appliances, the Pallet Reservoir and the Pallet Tunnel. The company, founded in 1946, is a provider of fabrication, machining and hydraulics services and is the creator of the popular Pal-O-Matic pallet dispenser. The Pal-O-Matic is used to increase productivity and reduce labor costs by storing, organizing and presenting individual pallets for easy pickup by forklift and pallet jack operators. The Pallet Reservoir and the Pallet Tunnel are intended to be used as an accessory enhancement to the Pal-O-Matic or as stand alone appliances to give users a wider selection to meet the specific needs of their operations.
The Pallet Reservoir was designed to accommodate large stacks of pallets in a vertical steel enclosure for safe and secure storage and protection from the elements, as well as organizing and straightening stacks. The units can be built according to customer specifications to accommodate different ceiling and pallet sizes and are available with optional sidewall sprinklers and safety gate with a warning light.
The Pallet Tunnel is essentially a smaller version of the Reservoir and is designed to hold smaller stacks of 12 to 14 pallets. It features heavy-duty steel construction and is also available in custom sizes.
Both new products are intended for either indoor or outdoor use and are built to conform to established industry safety standards. Yarbrough Industries cites studies which show increases of up to 66% in order selector productivity through use of their pallet handling appliances. The company also offers onsite training in the use and maintenance of their products in addition to a one year manufacturer's warranty on materials and workmanship.
About Yarbrough Industries
Yarbrough Industries has been providing on-time, cost-effective solutions for our customers since 1946 in the areas of Fabrication, Machining and Hydraulics. Yarbrough offers advanced-technology engineering and fabrication processes and the widest selection of machinery capabilities in the area. Yarbrough Industries is a premier hydraulic parts and service provider who carries or has access to nearly any hydraulic part customers need. The full-service repair and re-manufacturing department and mobile service truck can handle any repair job, from pumps, motors and hydrostatic drives to heavy equipment and welding work.
Contact
Tod Pearson
http://yarbroughindustries.com
Yarbrough Industries
514 N. Fremont Ave.
Springfield, MO 65802
(417) 869-5344