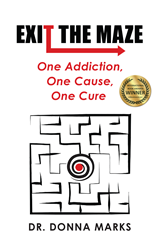 Every addiction is a substitute for love, and love is the only cure.
PALM BEACH, Fla. (PRWEB) August 04, 2020
The International Book Awards just announced the 2020 winners and finalists, and the latest book by Dr. Donna Marks, Exit the Maze - One Addiction, One Cause, One Cure, won best in the Health: Addiction & Recovery category, with five books named as finalists in the category. The 11th Annual International Book Awards are sponsored by American Book Fest.
Exit the Maze arose from Dr. Donna Marks' three decades of personal and professional experience as a psychotherapist and educator. In the book, she distills the lessons down to the essentials and shares her professional stance that has been considered controversial: there's only one addiction, and it can be cured. She says the current models for diagnosis and treatment for addiction and mental health have failed.
"We've been treating addiction with addiction, and it needs to stop," says Dr. Marks. She offers a treatment process that helps those who are ready to "walk away from addiction like any other bad relationship." She believes that addiction is a far greater threat to our survival than any other illness because it is "the root of most other illnesses," with over 100 million people suffering from various addictions in the U.S. alone. Almost all hospitalizations and unnatural deadly illnesses are directly related to food and substance abuse.
She says, "Addiction is like a black hole that pulls everyone and everything near and dear into it." She defines addiction as "anything that a person continues to do despite negative consequences; if they weren't addicted, they would stop."
The three-step process she outlines in her book explains why people switch from one addiction to the next, why addictions are learned, and how to cure addiction. Marks explains how all addictions are a substitute for love so that all addictions can be replaced with love. Her mission is to save ten million lives in the next ten years through education and prevention.
Find Exit the Maze - One Addiction, One Cause, One Cure on Amazon, along with her book Learn, Grow, Forgive: A Path to Spiritual Success.
Dr. Donna Marks, a licensed psychotherapist, is the author of two books: Exit the Maze – One Addiction, One Cause, One Cure, and Learn, Grow, Forgive – A Path to Spiritual Freedom. She is a consultant, educator, public speaker, and instructor of A Course in Miracles, and has served as an addictions counselor in private practice in Palm Beach, Florida, for more than thirty years. She developed an award-winning addictions training program at Palm Beach State College and has served on numerous mental health boards. Dr. Marks currently offers an online course and a comprehensive concierge program for people who are ready to exit the addiction maze. Connect with her at http://www.drdonnamarks.com.
For more information about the 11th Annual International Book Awards, visit http://www.InternationalBookAwards.com.