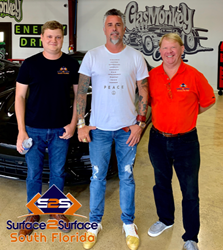 "As our commercial and residential clients choose to utilize these high-tech flooring and surface solutions for their projects, S2S South Florida will be here to serve Palm Beach County with our diverse brand of high-performance surface solutions". says Mike Rhodes, President of S2S South Florida
PALM BEACH, Fla. (PRWEB) November 13, 2019
It's no secret that Palm Beach County is one of the most popular places to live in the U.S.A. but with the recent addition of S2S South Florida, Palm Beach county now has added America's favorite decorative surfaces company to their ever-growing roster of businesses moving into the area.
The rapid expansion within the specialty flooring and decorative surfaces segment is becoming a popular movement across the United States within the niche markets of epoxy flooring, epoxy counter-tops, architectural concrete resurfacing, and the specialty coatings sectors. This phenomenal global industry is emerging into many markets such as the Automotive / Aerospace, Commercial Office Buildings, Food & Beverage, Retail & Grocery, Hospitality, Healthcare, airport, Industrial and Residential spaces.
"The decorative concrete and specialty surface coatings industry in Palm Beach County is in high demand." Says Mike Rhodes, President of S2S South Florida "As our commercial and residential clients choose to utilize these high-tech flooring and surface solutions for their projects, S2S South Florida will be here to serve Palm Beach County with our diverse brand of high-performance surface solutions".
"The truth is, high-quality specialty concrete and decorative surface solutions, that will consistently perform in the commercial environment, are difficult to find" says Rhodes, "As one of South Florida's recognized leaders in the placement of traditional specialty concrete solutions, our ultimate goal was to diversify our niche by also offering high quality post-placement surfacing solutions to our growing customer base" Rhodes adds… "I have spent years analyzing various products searching for an exclusive high-quality product line that would facilitate a seamless transition into this rapidly emerging market. Simply put, Surface2Surface Global has the most diverse and highest quality products on the market." Matt Rhodes Executive Vice president of S2S South Florida says "Our customers recognize us as problem solvers and we just raised the bar by adding the Surface2Surface Global line of products to our repertoire. When a customer calls with an unusual or difficult request, we will be able to use our advantage in the market by continuing to provide our customers with the inimitable solutions and superior results they have come to expect"
The Surface2Surface Brand-
Surface2Surface Global is an American Made liquid polymer, epoxy, and decorative concrete products manufacturing company. "Our diverse line of surface solution products are only available to the consumer exclusively through our (Surface 2 Surface) S2S Dealership network" says Keith Kimberlin President of Surface2Surface Global. "We had several people wanting to acquire the Palm Beach County territory, but Mike and his team have over 54 years of industry experience and know the decorative finishes business better than anyone in the Southern Florida region, so it was really an easy choice." Kimberlin adds… "We have created a global brand and we continue to grow our national and global presence through our unique form of marketing and TV exposure as the primary flooring and surface provider some of TV's most popular shows." This is what some of TV's most famous hosts are saying about Surface2Surface; "You really need to pay attention to Surface2Surface because they take really good care of us" says Richard Rawlings of Gas Monkey fame and host of "GARAGE REHAB". While Michael Cordray Host of DIY's "BIG TEXAS FIX" says "Surface2Surface provides us with unlimited options helping us to avoid the costs of total removal and replacement". JoJo Fletcher and Jordan Rodgers from CNBC's "CA$H PAD" say "Surface2Surface saved us thousands on our renovation projects… using S2S for our project was a no brainer'!"
"It is this amazing support and global brand recognition coupled with our wide range of commercial and residential flooring and surface solution products and applications, that has exponentially grown our opportunity for projects all over the world. We are proud to say that Palm Beach County is now part of our rapidly growing list of U.S. counties with an exclusive Surface2Surface Dealer." Says Kimberlin.
About Surface2Surface South Florida-
S2S South Florida is owned and operated by Michael Rhodes. Mikes son Mathew Rhodes serves as executive Vice president of the company. Mike also owns Homestead Paving and is a licensed specialty and decorative concrete contractor and general engineering company serving the South Florida Region of the United States. Mike Rhodes is an exclusive Licensed Master Dealer of Surface2Surface Global products for the South Florida territory and is a proud member of the S2S Global Dealership Network.