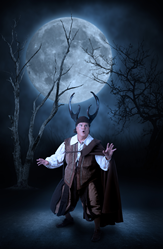 "We are thrilled to present Verdi's final opera at Palm Beach Opera for the very first time."
WEST PALM BEACH, Fla. (PRWEB) March 22, 2023
Following Palm Beach Opera's successful "Madama Butterfly" and "Così fan tutte," Palm Beach Opera's company debut of "Falstaff" will mark the final opera of the exciting 2023 Season. Based on Shakespeare's iconic character, "Falstaff" brings the notorious knight to life with a whimsical yet sophisticated story and an ensemble tour-de-force. The immersive production also features set design inspired by the famed Globe Theater in London, adding another Shakespearean element to the opera.
Returning to PBO in this production are renowned conductor Antonello Allemandi and director Garnett Bruce, who worked together in PBO's celebrated production of "Carmen" last year. Returning for his eighth Palm Beach Opera production, Michael Chioldi will perform the title role. Recognized by The New York Times for her "powerful, gleaming" voice, soprano Amber Wagner will return as Alice Ford. A regular at Lyric Opera of Chicago, mezzo-soprano Lauren Decker will mark her company debut as Mistress Quickly, and Andrew Manea, who performed as Count Danilo in PBO's recent "The Merry Widow," will return as Ford. Last seen at Palm Beach Opera as Gilda in "Rigoletto," Andrea Carroll will perform the role of Nannetta. South Florida native and PBO Bailey Apprentice Artist alumnus Anthony Ciaramitaro, who has gone on to win several prestigious awards and recently debuted at the Metropolitan Opera since his time at PBO, is returning to the company as Fenton. 2023 Season and second-year Benenson Young Artist Meridian Prall will perform as Meg Page.
"We are thrilled to present Verdi's final opera at Palm Beach Opera for the very first time," said General & Artistic Director David Walker. "Featuring a layered plot, lush music, and unforgettable characters, 'Falstaff' is a masterful blend of comedy and romance – perfect for first-timers and opera fans alike."
"Falstaff" will be sung in Italian with English supertitles projected above the stage. Single tickets start at $25. Tickets are available for purchase online at pbopera.org or by calling the box office at 561-833-7888.
PBO's 2023 Season will conclude with Liederabend on March 29, featuring the company's 2023 Season Bailey Apprentice Artists in an intimate evening of art songs at the Cornelia T. Bailey Opera Center. For more information, visit pbopera.org.
Palm Beach Opera is dedicated to producing live opera at an international standard of excellence, enriching the lives of the communities it serves with a diverse offering of educational programs, and training the next generation of opera stars. Founded in 1961, the fully professional Palm Beach Opera presents main-stage performances at the Kravis Center for the Performing Arts in West Palm Beach and is a proud member of OPERA America and the Cultural Council of Palm Beach County.