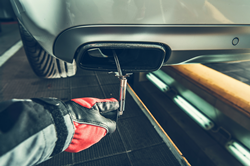 KENOSHA, Wis. (PRWEB) July 10, 2019
The staff of Palmen Motors does its best to evaluate, test and then stock only reliable vehicle models within its new and pre-owned model inventories. However, vehicles, new and old, require regular maintenance to retain optimal and reliable performance for the safety of its driver and passengers.
Drivers in the Kenosha County area looking to save additional money on automotive service, maintenance and parts installation can browse through the online listings of service specials at the Palmen Motors dealership and additional Palmen Auto dealerships in the area.
Current service specials listed online at the Palmen Motors website include a free brake inspection and battery test, $5 off wiper blade replacement, $5 off tire rotation, $5 off a standard or synthetic oil change, $20 off a coolant flush and the Pothole Alignment special for $59.95. This special includes a check of tire pressure and wear, a check on all steering and suspension, a check of caster and camber angles, an adjustment for the vehicle's front toe and a complimentary car wash and vacuum treatment.
Additionally, Palmen Motors offers a Bonus Saver program that allows customers to save additional money relative to the total end cost of the automotive maintenance performed. This can net drivers savings of up to $75 and also comes with a complimentary car wash and vacuum treatment if the end cost is $100 or more.
Drivers are also encouraged to check out additional service and vehicle specials at other Palmen Auto dealerships in the area, including Palmen Fiat and Palmen Kia.
Additional incentives available at the Palmen Motors dealership can be found online or by contacting the staff more directly. The Palmen Motors can be reached at the number 877-730-5304. Further means of communication with the Palmen Motors staff include email, online messaging, and a visit to the dealership location. The Palmen Motors dealership is located at 5431 7th St., Kenosha, Wisconsin 53142.