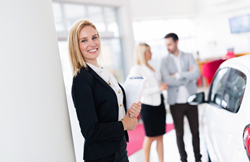 KENOSHA, Wis. (PRWEB) June 25, 2020
Customers with bad credit looking for auto loans and automotive financing can find financial solutions while shopping for a new or used vehicle at the Palmen Motors dealership. The Palmen Motors finance team is expertly trained and experienced with handling customer cases with bad credit, imperfect credit and no credit. No matter a customer's credit history, they can find a ride that fits their driving lifestyle at Palmen Motors.
With proper choice of vehicle, payment schedule, financing rates and future options for automotive financing, an auto loan can allow drivers to purchase, finance or lease a vehicle despite their credit history and without the risk of defaulting on payments. Initial interest rates can often be high for those with bad credit, but refinancing is available to drivers who stick to their payment plans.
Drivers with bad credit shopping for a vehicle need not relegate their search only to that of pre-owned vehicles. At Palmen Motors, correct planning and loan structuring by the finance team can allow drivers to shop for a new vehicle from the Palmen Motors Chrysler, Dodge, Jeep and Ram inventory. Selections include the Chrysler Pacifica minivan models, the Dodge Challenger and Charger muscle cars, the Jeep Wrangler SUV and Gladiator midsize pickup truck and the Ram 1500 light-duty and 2500 and 3500 heavy-duty pickup truck models.
For additional financial information and assistance, customers are encouraged to explore the finance department pages at the Palmen Motors website at palmenmotors.com and to contact the dealership staff. The dealership team can be reached through online messaging and email, phone calls to the mainline number of 262-671-1935 and on-site visits to the store located at 5431 7th St., Kenosha, Wisconsin 53142