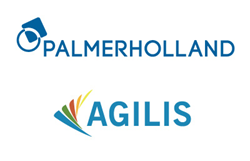 "We chose Agilis because of their technology expertise, industry experience, and their unique approach to implementing digital commerce solutions designed specifically for the chemical industry."
CLEVELAND and SHORT HILLS, N.J. (PRWEB) June 03, 2020
Palmer Holland, a national distributor of specialty ingredients and chemicals, today announced that it is partnering with Agilis Chemicals, a NJ-based technology company, to launch an e-commerce portal for its Health & Nutrition portfolio.
Palmer Holland's dedication to commercial excellence and service leadership has led the company to explore innovative ways of using technology to better serve its growing customer base. Agilis helps ingredient distributors like Palmer Holland take its business online, without disrupting established business practices.
"The partnership between Palmer Holland and Agilis illustrates our commitment to offering our customers an easy and efficient way to do business with us," says Bret Horace, Business Director of Palmer Holland's Health & Nutrition business. "We chose Agilis because of their technology expertise, industry experience, and their unique approach to implementing digital commerce solutions designed specifically for the chemical industry."
"This project allows us to demonstrate how our solutions can help specialty and ingredient chemical distributors drive business growth while protecting and augmenting their brand and the brands of their key principals," says Jay Bhatia, Founder and CEO of Agilis Chemicals. Gregg Scieszka, Agilis Vice President of Sales adds, "Agilis' digital growth platform is an exciting supplement to the existing commercial growth efforts of Palmer Holland Health & Nutrition".
The new Palmer Holland Health & Nutrition portal is now live. Please visit: https://agilischemicals.com/palmer-holland
About Palmer Holland:
Established in 1925 as Palmer Supplies Company, today Palmer Holland is a North American specialty chemical and ingredient distributor of raw materials headquartered in Cleveland, Ohio with over 40 account managers and ingredient consultants stationed throughout the United States and Canada. Palmer Holland is a private, employee-owned company which allows us greater flexibility in the marketplace and a dedicated platform for long-term success. This flexibility enables Palmer Holland to provide our customers and principals with the most effective and efficient solutions. These partners are rooted in the areas of Agriculture, CASE (coatings, adhesives, sealants, elastomers), Health and Nutrition, Lubricants and Plastics. For more information about Palmer Holland, visit our website at http://www.palmerholland.com.
About Agilis Chemicals, Inc:
Agilis is a technology company focused on driving digitalization of commerce processes in the chemical industry. With Agilis, global chemical producers and distributors can launch their own cloud-based branded e-commerce portals, fully optimized and equipped with modern marketing tools and analytics. Agilis offers chemical suppliers an easy and cost-effective way to attract and engage customers via secure digital sales and marketing channels. Headquartered in Short Hills, NJ, Agilis combines industry experience and technology expertise in building advanced, scalable technology solutions. For more information about Agilis, please visit http://www.agilischemicals.com and follow us on: https://www.linkedin.com/company/agilis-chemicals/