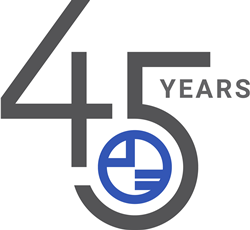 "It has been an amazing 45 years. While there have been ups and downs, it's our people that have fueled our growth and commitment to our customers. I'm proud to share in this milestone with all the great people of Palmer Johnson Power Systems." Craig Swenson, President Palmer Johnson Power Systems
SUN PRAIRIE, Wis. (PRWEB) August 02, 2022
Palmer Johnson Power Systems (PJPS) is excited to celebrate 45 years of providing world-class service to its customers. Founded in 1977, PJPS has grown into a leader in off-highway powertrain distribution, supplying components and service to customers around the globe. Throughout its history, PJPS has remained committed to quality, service, and innovation, enabling the company to grow its people and business.
Winner of the 2020 Diesel Progress Employer of the Year award, the experienced PJPS team is committed to providing the highest quality service and expertise to help its customers keep their equipment running. The company now has nine facilities across North America, including Canada, as a result of recent acquisitions. These moves have broadened PJPS's footprint and expanded its product offerings, allowing the company to better serve its customers. With its recent growth and culture of customer service excellence, PJPS is positioned to continue serving its off-highway customers as the industry evolves and technologies advance.
"It has been an amazing 45 years. While there have been ups and downs, it's our people that have fueled our growth and commitment to our customers. I'm proud to share in this milestone with all the great people of Palmer Johnson Power Systems." - Craig Swenson, President Palmer Johnson Power Systems
About Palmer Johnson Power Systems
Palmer Johnson Power Systems specializes in servicing and supplying components for heavy-duty, off-highway transmissions and axles. The company currently operates nine sales and service branches across North America with more than 115 dedicated employees. Palmer Johnson is the authorized distributor and service center for leading off-highway manufacturers including Twin Disc, ZF Off-Highway, Dana Spicer, Carraro, Funk, Wichita, Eaton Airflex, Durst, Kessler, Cotta, and more. Palmer Johnson also operates volume OEM transmission and axle re-manufacturing programs out of the company's Madison, Wisconsin, headquarters for equipment manufacturers including John Deere, Caterpillar, AGCO, and CNH.