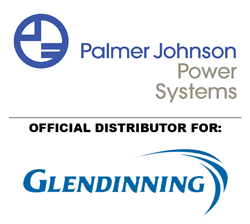 SUN PRAIRIE, Wis. (PRWEB) January 27, 2023
Palmer Johnson Power System has partnered with Glendinning as an official distributor.
Glendinning is a premier manufacturer of complete marine engine controls systems. They have been designing and producing marine control systems since 1996 with thousands of systems having been installed over the years in an array of marine applications.
From mechanical control cables, cable, and hose handling systems to sophisticated propulsion vessel control systems, Glendinning strives to create innovative products that fulfill customers' needs, solve problems as well as provide new feature sets for various markets.
Glendinning supplies the world with innovative solutions. Established in 1972, Glendinning Products has built a reputation for quality and innovation. This recognition comes from a continuous commitment to manufacturing quality, leading-edge products, and providing superior service.
About Palmer Johnson Power Systems
Palmer Johnson Power Systems is a leading distributor and authorized service provider for the off-highway industry. Palmer Johnson specializes in parts distribution, application engineering and service repair of powertrain components. Over the last five years, due to customer demand in the off-highway market, Palmer Johnson has moved into complete service of off-highway equipment, including engine and hydraulic repairs.