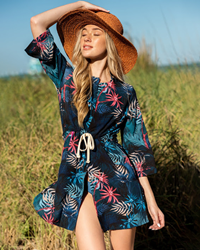 "We love to design timeless beachwear that will keep you fashionable from sunrise to sunset," said Rene Lopez "The Riviera Collection does just that! We can't wait for our customers to enjoy the colorful look and feel of our most elegant line to date."
PORTLAND, Ore. (PRWEB) October 02, 2020
The Riviera Collection blends elegance and sophistication, influenced by ocean views and luxurious destinations.
Palmera Beachwear, makers of luxury destination fashions, launches The Riviera Collection, a line inspired by ocean views and tropical adventures. Featuring bespoke tropical prints, fast-dry fabrication, PVF50 protection and raw weave string cords, the collection has gone from the runway to the resort and is in keeping with the company's elegant brand charm.
The collection features cover ups, wrap skirts, beach pants, slip dresses and totes in a variety of tropical foliage prints and comfortable fabrics. Bask in the sunshine, then transition into nighttime all in the same attire.
"We love to design timeless beachwear that will keep you fashionable from sunrise to sunset," said Rene Lopez "The Riviera Collection does just that! We can't wait for our customers to enjoy the colorful look and feel of our most elegant line to date. We strive to keep you outfitted for all your chic travel needs near and far."
Additionally, the company offers The Resort and Poolside Collections, giving consumers more variety and price points to choose from for beach attire when lounging poolside, swimming or taking a stroll throughout a resort.
Palmera Beachwear can be found online via the company's website and Google Shopping, as well as in retail outlets, such as Macy's. Visit https://www.palmerabeachwear.com and take a break from your daily routine.
About Palmera Beachwear:
With more than 50 years of combined experience in apparel design, development, manufacturing, merchandising and retail, Palmera Beachwear is a dream come true for two siblings growing up in the sunny beaches of Acapulco, Mexico. Blasting sunsets, Mexican folklore and the colorful tropical coastline are the inspiration for their collections. Their mission is to bring to life leisure beachwear designs that capture the very essence of a breezy day at the beach.