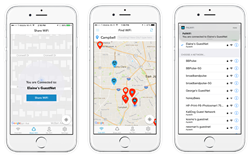 More affordable mobile internet is essential for Americans everywhere.
Campbell, California (PRWEB) November 08, 2016
PalWiFi's patent-pending software technology is a solution to today's pressing wireless network needs, with the goal of improving the wireless experience while containing the sharp increase in mobile data plan costs. PalWiFi's sharing app can help everyone to benefit by using complimentary Wi-Fi through PalWiFi's platform, and less mobile data.
Thuy Nguyen, Founder of Broadband Pulse says, "internet access is essential for everyone. With annual median household income of ~$56,500, it is frustrating for American families to pay more than $250 per month for their home internet access and mobile data plans. We want to help make mobile internet more affordable while optimizing the home broadband internet connection."
According to PEW Research, mobile data plans – while necessary to remain connected – are becoming a financial burden for many working Americans. Monthly family plans for mobile data can now exceed a car lease payment, which is forcing Americans to make tough financial choices. Consumers and business need to be connected and PalWiFi seeks to drive its sharing economy platform to help everyone stay connected while lowering cellular phone bills.
With PalWiFi, consumers agree to share their unused home internet capacity and become members of a growing PalWiFi community. Consumers download the PalWiFi sharing app, join the PalWiFi trusted community, and turn their home routers into community-shareable hotspots. The app, membership, and shared Wi-Fi, are available at no cost to the community. Members have access to complimentary Wi-Fi at fellow PalWiFi hotspots, use less mobile data and help the community to benefit with lower mobile internet costs. Retailers already attract more customers by offering Wi-Fi. PalWiFi helps small businesses save time in servicing their patrons who connect to their secured, shared, guest Wi-Fi without needing to know the passwords. PalWiFi also aims to help small businesses and our community with mitigating cybersecurity concerns associated with Wi-Fi passwords posted openly.
PalWiFi invites all Americans to join a sharing revolution and download the app today. To learn more about PalWiFi's launch, please visit http://igg.me/at/palwifi/.
About PalWiFi
PalWiFi is a community of consumers and small businesses sharing Wi-Fi. PalWiFi is developed and operated by Broadband Pulse, Inc. The PalWiFi platform makes wide-scale sharing possible using software defined networking (SDN) technology. PalWiFi offers safe, secure, and simple Wi-Fi sharing for users and network administrators.
About Broadband Pulse, Inc.
Broadband Pulse, Inc. is a startup software company based in Silicon Valley and founded by wireless technology veterans who have built and operated large broadband networks for AT&T, Comcast and @Home Network. The company specializes in building network functions virtualization (NFV) technology - ideal for consumers, retailers, hospitality businesses, venue operators, and schools - to leverage shared Wi-Fi networks and to serve customers in today's connected lifestyle.